What You Don't Know About the Final Four
March 29, 2023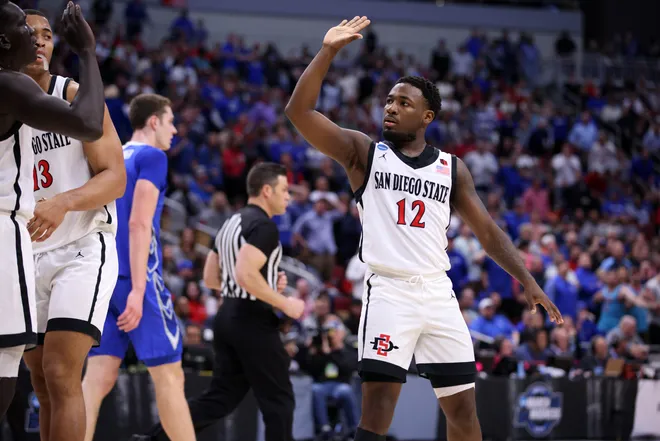 It has got to be the most unusual Final Four possibly in the history of college basketball. No No. 1 seeds, three first-time participants, and just a general sense of "WTF is going on here?"
But hey, that's March Madness. 
Now that the Final Four is set, the information is starting to flow. Final Four this and Final Four that. Fans and bettors alike will hear anything and everything about UConn, Miami, Florida Atlantic, and San Diego State. There's more though. Much more…
Another First
Remember when No. 16 UMBC beating No. 1 Virginia in the 2018 tournament was the biggest thing ever in NCAA tournament history? How about another tourney first?
The NCAA began seeding teams in 1979 and for the first time since, not a single No. 1 seed played in the Elite Eight. Only one No. 2 seed, Texas, was an Elite Eight participant. 
As a result, this will be just the fourth Final Four in history without a No. 1 seed. Here were the champions in the previous three.
1980: No. 2 Louisville (+800 before the tournament)
2006: No. 3 Florida (+2000 before the tournament)
2011: No. 3 UConn (+2500 before the tournament)
Huskies or Aztecs
If you're betting on futures before the Final Four, you might want to back UConn (-135) or San Diego State (+375). Historically, pre-Final Four championship favorites win it all. 
In 17 of the past 18 Final Fours, one of the top two betting favorites on the board has gone on to win the title. Ironically, the only exception in this time span was in 2014. UConn was a +3500 underdog but won the title as a No. 7 seed.
It's also interesting to note that of the four teams remaining, UConn at +1600 had the best odds of winning a national championship before the tournament started. Miami was listed at +5000, San Diego State came in at +8000, and FAU was given +20000 odds to win it all at the best sportsbooks.
If you add up those odds, you get +34600. That's the third-highest total during the seeding era. 
Fade the Public?
Dating back to 2005, the public is 23-27-1 ATS in the Final Four. However, the public has been extremely bad over the past six tournaments.
The public is 5-13 ATS since 2016. Last year, the public went 0-fer…0-3 in the three Final Four games in 2022.
Bet Totals Carefully
This season has been an absolute rollercoaster ride as far as totals bets are concerned. Early in the season, Overs hit at just a 47.2 percent clip in November. By December, that was up to 53.8 percent and it ticked even higher in January (54.8%). 
Then, things started to tighten up around conference tournament time. It was expected as the Under went 130-111 (53.9%) in all conference tournament games. In the First Four and the First Round of the NCAA tournament, Unders won a whopping 75 percent (27-9) of the time. 
There was talk about the new ball being used and playing on neutral courts. Whatever it was, it subsided as the Sweet Sixteen produced eight Overs in 12 games. 
Longshots
FAU didn't show up on many sportsbooks' futures boards until early in February. They entered the mix at around +25000. The Owls odds dropped to +20000 by mid-March. 
San Diego State and Miami were both as high as +10000 at some point this season at a number of sportsbooks. Since 1978, only four teams that entered March Madness at +20000 or higher have won the national title. UConn actually did it twice in 2011 and 2014. The other two were NC State in 1983 and Villanova in 1985.
Since seeding began in 1979, there have been 44 NCAA champions. Only nine entered March Madness at +1500 or greater.