NCAA Men's Frozen Four Preview
April 5, 2023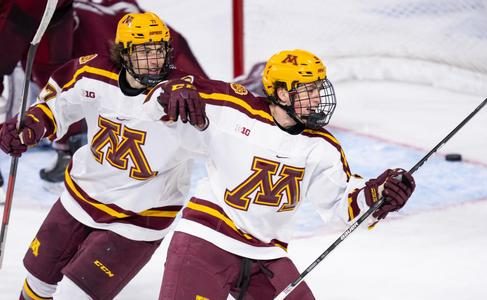 There's a trio of blue bloods looking to make history at the Frozen Four at "chilly" Tampa Bay, while a relatively new standout seeks its initial title. Here is the schedule, results and what to know. It's the Minnesota Golden Gophers as the 3-2 (+150) favorites, according to NCAA hockey championship odds. 
Semifinal 1…Minnesota vs. Boston U, Thursday, 5 PM
Semifinal 2…Michigan vs. Quinnipiac, Thursday, 8:30 PM
Championship…Winner 1 vs. Winner 2, Saturday, 8 PM
Minnesota and Michigan are favored in their respective games, as per NCAA hockey odds.
Roads to Frozen Four
Minnesota Golden Gophers
Minnesota (28-9-1) enters the semifinal round after sweeping its regional, 9-2 against Canisius and 4-1 over St. Cloud St.
Monnesotao was by far the best team in the Big Ten regular season, having finished 6½ games ahead of Michigan, which is also here. However, the Wolverines were 4-3 winners over the Gophers in the final of the conference championship.
The Gophers won the first three games against Michigan, but the Wolverines captured the last two. Minnesota has not played either Boston U. or Quinnipiac.
Boston U. Terriers
Boston (29-10) arrives after beating Western Michigan, 5-1, before a 2-0 victory over Cornell. The Big Red disposed of Denver in the regional, hosted by New Hampshire.
The Terriers won the Hockey East regular season championship (54 points), then had three wins (including two in overtime) to secure the tourney championship.
Boston split a pair of games at Michigan in October, winning the second, 3-2. The Wolverines were the lone previous opponent of Boston U. in this Frozen Four.
Michigan Wolverines
Michigan (26-11-3) hits town off an 11-1 rout of Colgate, then a 2-1 overtime decision against Big Ten rival Penn St. This will be the Wolverines' first game against Quinnipiac this season.
Quinnipiac Bobcats
Quinnipiac (32-4-3) joins the Frozen Four as winners of the ECAC regular season with a dominant 60 points. However, the Bobcats lost to Colgate in the conference semis. That didn't slow them in the NCAA's, though, wins over Merrimack (5-0) and Ohio St. (4-1).
Quinnipaic didn't play any of the other Frozen Four qualifiers during the season.
Notes to Know
–The Minnesota Golden Gophers were the top overall seed in the NCAA Tournament, with two of the top three Hobey Baker finalists (Logan Cooley, Matthew Knies). Add in Jimmy Snuggerud, and it may be the best line in college hockey. Minnesota had depth both at forward as well as on the blue line in front of goalie Justen Close.
They are scoring 4.2 goals per game, more than any other NCAA team, and with the best power play (26.2%) of any team still remaining. Minnesota kills off penalties 83.7% of the time, having surrendered a scant 2.2 goals per game.
This is Minnesota's 21st Frozen Four (and second straight). It hasn't won a title since 2003. 
–The Boston University Terriers feature freshman defenseman Lane Hutson, who had arguably the best season of any player in his class or position (though not representing BU as a Hobey Baker finalist). Goalie Drew Commesso figures to be challenged, since the Terriers do not have a great first line of forwards.
The Terriers averaged 3.9 goals per game, having surrendered 2.6 per contest. Their power play is at 19.8%, penalty kill is 81.1%. Boston is also in its 21st Frozen Four, looking to win its first national title since 2009.
–The Quinnipiac Bobcats were seeded second in the NCAAs, led by freshman Collin Graf. Graf was a top 10 Baker Award finalist this past season.
The Bobcats have a strong forward group, while Yaniv Perets was recognized as one of the best goalies in hockey, a finalist among those in the Mike Richter Award.
Quinnipiac is making its third Frozen Four appearance since 2016, eyeing its first title.
–The Michigan Wolverines have as dangerous an offense as any in the country (see blowout of Colgate in opening round). They are led by Baker favorite Adam Fantilli, the frosh who leads the nation in scoring (29 goals, 35 assists, 64 points). Goalie Erik Portillo has rounded into shape just in time.
While the Wolverines score 4.2 goals per game, they surrender 3.1. A 27th Frozen Four, and what would be a record 10th title. They haven't won since the Red Berenson days of 1998.