Sportsbook Rooting for Jon Rahm in a Big Way
April 9, 2023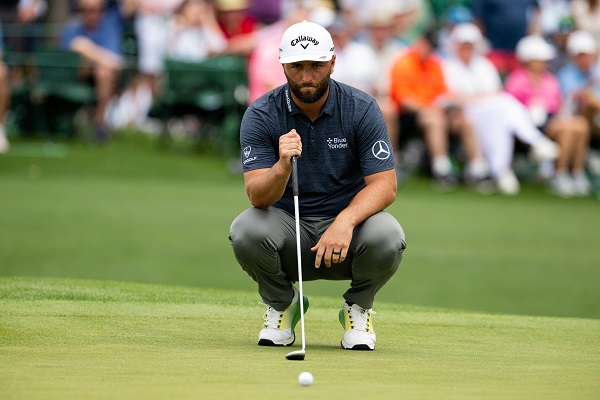 A popular online sportsbook has made no secret that it really wants Jon Rahm to overtake Brooks Koepka for first place and take the win at the Masters. Rahm is currently in the #2 spot after play was suspended on Saturday. He is nine under (-9) and Koepka is 13 under par (-13) through six.
BetOnline's social media manager Dave Mason has always let his followers know exactly what he is thinking and what or who their sportsbook needs to win. He tweeted this: "Big time Rahm fans as he would be a XXXXXL Win for us. Koepka would be a large loss."
This is because Rahm was the overall favorite at the start at a modest +750 and received middling action. Koepka, on the other hand, was getting +6000 and received a lot of interest.
Despite a large gap to leader Brooks Koepka, Jon Rahm entered the last day of the 87th Masters with confidence.
As Rahm finally finished his delayed second round on Saturday, he was four strokes behind Koepka. Play was called off because of persistent rain while the final group was on the seventh green.
A two-shot swing was possible, as Koepka would return to make a par putt from 12 feet and Rahm would attempt a birdie from somewhat closer.
After missing putts on the fourth and fifth holes, Rahm accepted the ban without protest.
"You can't really say it was (too) late because I don't blame them for wanting us to play as much as possible," the former US Open champion said.
"It was just too bad I couldn't save at least one par on four or five, but I made a great swing on six and two great swings on seven so I'm feeling confident, playing good golf and there's a lot to be played."
U.S. Amateur winner Sam Bennett was three strokes behind of Rahm at six under par, while Tiger Woods was dead last after playing the opening seven holes of the third round in six over par, putting him well beyond the cut line.
Earlier in the week, a sports bettor placed an exotic wager for $222K to win just $2,000 that Tiger Woods would not win this Master's. Tiger Woods tied the record by making his 23rd consecutive cut at the Masters, but after a disastrous third round, he may have wished he hadn't bothered.
The Masters starts back up at 8:30am ET this morning barring any natural delays.
See Also: