2023 NFL Mock Draft – The Top 10
April 12, 2023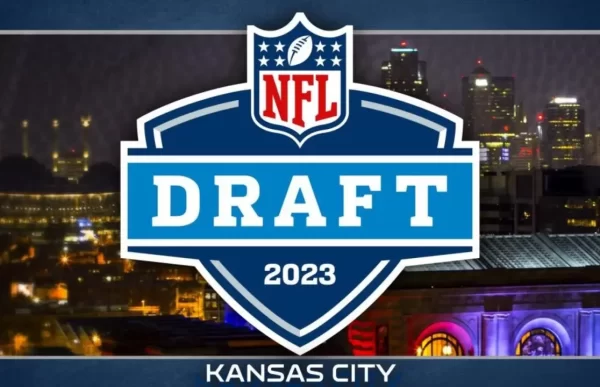 It's just over two weeks away. The 2023 NFL draft is approaching fast and soon we'll learn which player will go No. 1 overall. That the pick will be a quarterback is not surprising. Which QB ends up going first might be somewhat of a surprise. 
Here's how we see it as well as the rest of the first ten picks of the 2023 NFL draft.
No. 1 – CAROLINA: CJ Stroud, QB, Ohio State
Yes, Bryce Young (-250) is the favorite to go No. 1, but Carolina didn't trade up to draft the second coming of Tua Tagovailoa. Instead, they will take the sturdier built Stroud, who is 6-3 and weighs in at 215 pounds. Stroud put up great numbers at Ohio State completing nearly 70 percent of his passes and throwing for 85 touchdowns in two seasons as the Buckeyes starter. He's the most accurate QB in the draft class and Panthers head coach Frank Reich can develop young quarterbacks.
No. 2 – HOUSTON: Bryce Young, QB, Alabama
There is no question that Young is talented, but he measured in at the NFL Combine under 5-11. While size hasn't been an issue for guys like Kyler Murray, Young, like Tagovailoa, has had his share of injury problems. Still, he is extremely talented and will become QB1 instantly under new head coach DeMeco Ryans. 
No. 3 – ARIZONA: Will Anderson, LB, Alabama
In any other year, Anderson would be the first player picked. He is the complete linebacker and is known for his ability to rush the passer. He had 17.5 sacks in 2021 and another 10 last season. Anderson is big and has run in the 4.6s in the 40. The Cardinals might be inclined to trade this pick, but whoever picks at No. 3 would get a future All-Pro by drafting Anderson.
No. 4 – INDIANAPOLIS: Anthony Richardson, QB, Florida
With his impressive NFL Combine performance, Richardson vaulted up everyone's draft board. The 4.4 40 and the ridiculous 40.5-inch vertical jump make Richardson an elite athlete. What it doesn't make him is a great quarterback. This is a stretch as Richardson has exactly 13 starts to his name with 17 TD passes and nine interceptions. Still, he's too intriguing of a prospect to pass up for a team in desperate need of a quarterback of the future.
odds by BetUS.com
TEAM TO DRAFT ANTHONY RICHARDSON MONEYLINE
Indianapolis Colts +170
Seattle Seahawks +1100
Carolina Panthers +2000
Baltimore Ravens +1200
Detroit Lions +1500
Las Vegas Raiders +550
Houston Texans +2000
Atlanta Falcons +2300
Tampa Bay Buccaneers +8500
Washington Commanders +3700
Any Other Team +105
No. 5 – SEATTLE: Jalen Carter, DT, Georgia
With the season Geno Smith had for the Seahawks last year, Seattle is just fine at quarterback. That will allow Pete Carroll to address rebuilding the defense. It starts with the 6-3, 300-pound Carter. Plugging him into the defensive line will help one of the worst run defenses in the NFL last season.
No. 6 – DETROIT: Tyree Wilson, DE, Texas Tech
The Lions offense was outstanding last year. The defense…not so much. Dan Campbell addresses that with the selection of Wilson, who is 6-6 and weighs 275 pounds. Wilson recorded seven sacks in each of the last two seasons and is just unmasking his potential.
No. 7 – LAS VEGAS: Joey Porter, CB, Penn State
The Raiders are desperate for help at corner. Porter solves that problem. He's the new breed of NFL corner with great size at 6-3 and 190 pounds. He's got great speed to and can defend big receivers on the outside or shifty athletes in the slot.
No. 8 – ATLANTA: Devon Witherspoon, CB, Illinois
The Falcons make it two straight corners with the selection of Witherspoon. The Falcons have a solid secondary with AJ Terrell at the other corner and Jessie Bates and Richie Grant at the safeties. Witherspoon's addition will help the Falcons pass defense improve upon its 25th place finish in 2022.
No. 9 – CHICAGO: Peter Skoronski, OT, Northwestern
The Bears take one from their own backyard. Skoronski (6-4, 313) was an All-American at OT, but may start for the Bears at guard. Chicago lost Isaac Seumalo to Pittsburgh in free agency and Skoronski could fill that gap right away. 
No. 10 – PHILADELPHIA: Paris Johnson, OT, Ohio State
The Eagles get this pick from New Orleans and use it to shore up their offensive line. The Bears could take Johnson – his arms are four inches longer than Skoronski – but has a greater need at guard. That opens the door for the Eagles to take the 6-6, 313-pound Johnson. 
NFL DRAFT 2023 – 1ST OVERALL PICK MONEYLINE
odds from BetUS.com
CJ Stroud +180
Bryce Young -250
Anthony Richardson +2000
Will Levis +5000