Giannis Antetokounmpo: The Story Of The NBA's Beloved Greek Freak
April 16, 2023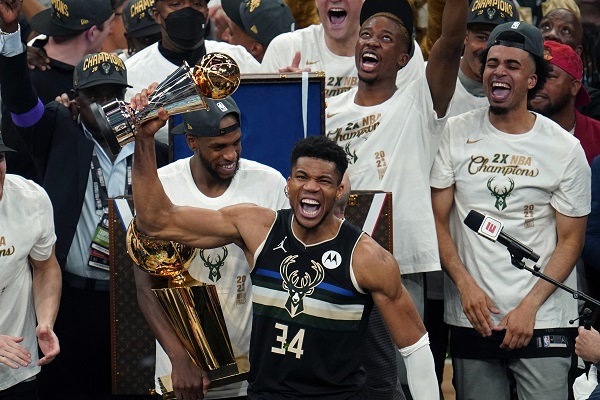 Born to Nigerian parents in Greece on December 6, 1994, was one of the greatest current power forwards of the NBA, Giannis Sina Ugo Antetokounmpo. He is a Greek-Nigerian basketball player known for his speed, athleticism, and ball-handling skills. People also call him the 'Greek freak' for the things that he can do on that court. Antetokounmpo was born and grew up in Athens and joined Filathlitikos B.C. His early years were struggling because he could not travel outside of Greece because he did not have citizenship because of a certain lase. He did not have either Greek or Nigerian citizenship for eighteen years. 
Just a couple of months before the NBA 2013 draft, he was given citizenship of Nigeria, and he made himself available for the draft. He was picked by the Milwaukee Bucks in the first round ten years ago and has not disappointed since. Giannis was full of confidence in his rookie season, but a lot of people criticized him and thought that the Bucks were wrong to draft him. His rookie season was not something extraordinary, but it was decent. He had a lot to learn, and he did just that and became the player that he is today.
He showed his critics why he was picked in the first round by the Bucks. He led the Bucks to the 2021 NBA title, Buck's first since 1971, also winning the finals MVP. Other than that, he has won the NBA Most Valuable Player two times in 2019 and 2020 joining a prestigious club of only three players to win the MVP two times before turning twenty-six. 
The Greek freak has been part of the NBA All-Star seven times. He works hard in the gym to keep himself going; he is not a raw talent like Lebron or Jordan. But the fact is he sets goals high for himself and works even harder to attain them. Giannis himself has explained it very well, "The only way to success is through hard work and patience." 
Milwaukee Bucks are one of the favorites for the NBA 2023 title; the fans will be looking for their star forward to bring home the title for the second time. Giannis and Co. will be determined to win the championship as they came up short in the 2022 season, losing to Boston Celtics in the conference semifinals.
All in all, Giannis Antetokounmpo is an inspiration for a lot of future basketball players. He showed the world even if one is not so privileged; one can still work hard and achieve success. Giannis remains determined and focused on winning more titles with the Bucks. His story, from poverty to becoming one of the greatest basketball players of all time, will be remembered forever.
The post-season starts tonight for the Milwaukee Bucks when they host the Miami Heat. The Bucks are favored -9 points at our odds website sbaodds.com.
The Bucks are favored to win the championship at +275 odds at BetUS.com