Best Sleeper Picks in the 2023 NFL Draft
April 22, 2023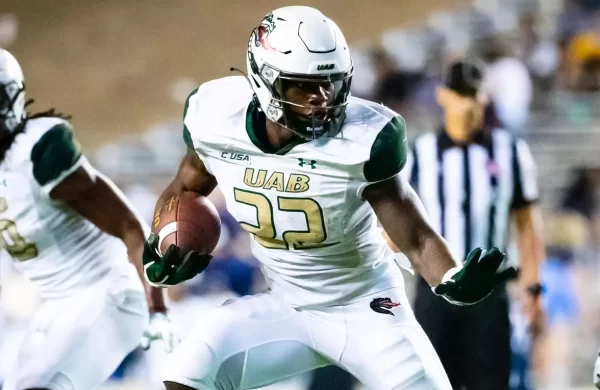 Isaiah Pacheco was a seventh-round draft pick. He ended up rushing for 830 yards and five touchdowns for the Super Bowl champion Kansas City Chiefs. Eleven slots after Pacheco was taken in the 2022 draft, former Iowa State QB Brock Purdy was selected with the final pick. Purdy, Mr. Irrelevant, wound up leading the San Francisco 49ers to seven straight wins and a trip to the NFC championship game.
Yes, in every NFL draft, there are those diamonds in the rough. Sleepers. Guys that, for whatever reason, don't get a lot of hype. They fly under the radar, but end up being solid NFL players. That's the focus of this article. Here's a look at the best sleeper picks in the 2023 NFL draft.
Nick Herbig, LB, Wisconsin
Herbig played outside linebacker in a 3-4 defense at Wisconsin. That put him on the line of scrimmage often and he utilized his speed and high motor to account for 11 sacks last year. He played at around 230 for the Badgers but weighed in at 240 at the NFL combine. At 6-foot-2, Herbig is kind of a tweener.
He has pass rush skills but will probably be an off-ball linebacker in the NFL. Herbig has great range and change of direction ability. He can also cover running backs and linebackers in the passing game. Herbig ran 4.65 in the 40 at the combine. He's a ball of energy that will make some team look very smart for taking him.
Viliami Fehoko, DE, San Jose State
Fehoko has a decent frame at 6-4 and 265 and he may be up to 275 by draft day. He is not all that explosive as his 4.75 40 time shows, but he is a player. He was a three-time All-Mountain West defensive end. He had 18 tackles for loss and nine sacks last season and a career-high 69 tackles. When you watch his game tape, you see that he is a disruptor. He's strong, has great hands, and will make a difference in an NFL team's pass rush.
Tyler Scott, WR, Cincinnati
Scott is a smallish – 5-10, 177 – receiver who has experience playing running back. He's a big yards-after-the-catch guy and had 54 catches for 899 yards (16.6 ypc) last season for the Bearcats. He had nine TDs last season, which gave him 14 for his career. Ten of those 14 went for 30-plus yards. Scott ran 4.44 at the combine, but it is reported he has run as low as 4.29. 
His combine numbers were outstanding – 39.5-inch vertical jump and an 11-1 broad jump. He's explosive and is the type of guy who can run jet sweeps and help in the return game as well. 
Zach Kuntz, TE, Old Dominion
Kuntz committed to Penn State out of high school and wound up at Old Dominion with former PSU offensive coordinator Ricky Rahne (now the Monarchs head coach). His stock soared after the NFL combine when he ran a 4.55 40, recorded a 40-inch vertical jump, and ran the shuttle in 4.12. What makes those numbers more impressive is that Kuntz is 6-foot-7 and weighs 255 pounds. 
He's a risk as he only started 15 college games. Kuntz missed most of the 2022 season with an injury, but he did have a great 2021 campaign with 73 receptions for 692 yards and five touchdowns. Kuntz is a tremendous athlete with great route-running and ball skills.
Dewayne McBride, RB, UAB
Running backs are a dime a dozen these days, but teams look for production. That is something McBride can provide. He ran for 1,713 yards and 19 touchdowns last season, eclipsing 120 yards in 10 of 11 games. He's not the biggest (5-10, 209) nor the fastest (4.52 in the 40), but McBride makes plays. In his career at UAB, he averaged a ridiculous 7.2 yards per carry in 484 attempts. He'll be a Day 3 steal for somebody.