Nuggets vs Lakers Playoff Preview – Odds – Pick
May 13, 2023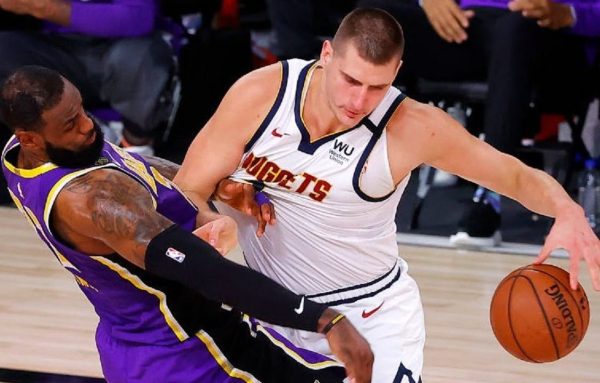 With the Western Conference Finals now determined, the 2023 NBA Playoffs have not let fans down. With a 4-2 series victory on Friday, the Los Angeles Lakers were able to defeat the Golden State Warriors, who were the defending champions. In the meantime, the Denver Nuggets eliminated Kevin Durant and the Phoenix Suns the previous night in a 4-2 series victory.
Western Conference Finals predictions: Los Angeles Lakers vs. Denver Nuggets
It would be difficult to find a supporter who thought the Lakers and Nuggets would square off in the 2023 Western Conference Finals. LA never really figured things out after a 2-10 start to the season until their trade deadline transactions.
The Nuggets, meanwhile, have essentially spent the whole season at the top of the Western Conference. The fact that they have two-time MVP Nikola Jokic, who came close to winning three games in a row this season, is undoubtedly beneficial. The Nuggets are seeming as dominant as ever in these 2023 NBA Playoffs thanks to Jamal Murray's performance.
Our preview of the Lakers vs. Nuggets series is geared toward Denver winning and going all the way to the NBA Finals in 2023 after watching how they nearly swept their first round series and destroyed Durant and the Sun.
NBA Best Bets & Predictions: Lakers vs. Nuggets – Denver is expected to win the NBA Playoff Series
Denver's series versus the Minnesota Timberwolves before the 2023 NBA playoffs was not at all competitive. In a 4-1 series victory, Jokic and company nearly eliminated them from the postseason. To reach to this point, the Lakers still had to compete in the Play-In Tournament.
They actually faced the same T-Wolves team and overcame them in overtime. There is no disputing how amazing the Lakers' victory over the Warriors was. However, the Nuggets are now playing at an all-time high, making it challenging to fade them. They defeated the Suns by 25 points in their final game, and that wasn't an anomaly.
They defeated Phoenix in each of their home games in that series by scores of 18, 10, 16, and 25 points. It's challenging to dismiss such supremacy given that they will once again have the home-court advantage for the Western Conference Finals in 2023.
The same thing happened in their two home games this season versus the Lakers. Denver prevailed in those contests by scores of 11 and 13. It therefore seems like a bargain that they are only -135 to win the series. To put things in perspective, the Boston Celtics are -165 to win the Eastern Conference, and as of the time of publication, they haven't even begun their Game 7 against the Philadelphia 76ers.
Given everything, Denver has -135 odds to win the Lakers vs. Nuggets series at BetOnline Sportsbook, according to our preview.
Odds & Pick
The Nuggets are -145 and the Lakers have +125 odds to win the series. We think that many folks feel the Lakers are hot and will cruise to the Finals. We are leaning toward the Nuggets and their dominant center. Denver will win (-145 at BetUS Sportsbook)
NBA Playoffs schedule for Lakers vs. Nuggets
Let's conclude our preview of the Lakers vs. Nuggets series with the series' schedule:
Game 1: Tuesday, May 16 at 8:30 PM ET (at Denver) Current Line: Denver -5/223.5 at BetUS.com
Game 2: Thursday, May 18 at 8:30 PM ET (at Denver)
Game 3: Saturday, May 20 at 8:30 PM ET (at Los Angeles)
Game 4: Monday, May 22 at 8:30 PM ET (at Los Angeles)
Game 5 (if necessary): Wednesday, May 24 at 8:30 PM ET (at Denver)
Game 6 (if necessary): Friday, May 26 at 8:30 PM ET (at Los Angeles)
Game 7 (if necessary): Sunday, May 28 at 8:30 PM ET (at Denver)