What Makes Aaron Donald so good?
May 15, 2023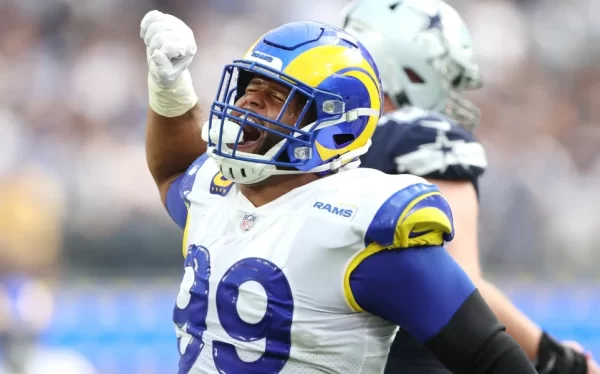 Aaron Donald was born May 23, 1991, in Pittsburgh. He is thirty-one years old and has a lot more seasons to play, if he so chooses. He plays for the Los Angeles Rams and is one of the best defensive players of all time, winning a lot of individual awards and also has a Super Bowl title. He went to college in Pittsburgh where he was a player for Pittsburgh Panthers Football. Aaron also won ACC Defensive Player of the Year for the Panthers. Before college, he was already showing great signs of being a great football player as he was playing great for his high school team. His high school was Penn Hills High School. 
After college, in 2014 Rams signed him up on a four-year deal and the rest is history. In his first year, he won the NFL Rookie defensive player and was also selected in the NFL pro bowl. He was already showing signs of a great professional career. The next season, he got selected again for the pro bowl, but the Rams were failing to qualify for the playoffs.
Aaron's first playoff appearance was in 2017. That year he also won his second Defensive Player of the Year. 
The Rams lost to Atlanta Falcons who were sixth-seeded during the regular season. All things were pointing toward the Rams winning the title sooner or later. 2018 is when they came very close, but they lost to Tom Brady's New England Patriots, unfortunately. It was very unfortunate that the Rams met the Patriots in the final who had the Greatest Quarterback in the history of the sport. The Patriots were too much for the Rams and lost 13-3. Aaron was named by his peers as number one in the top 100 NFL players of 2019. In the 2021-22 season, the Rams again returned to the Super Bowl and defeated the Cincinnati Bengals in a nail-biting match 20-23, this was Ram's second Super Bowl. 
Aaron Donald finally got his hands on the trophy that he most wanted, and its possible he can win more should Matt Stafford play better than he did last season and if Cooper Kupp can stay healthy. He is pretty young for an NFL player and can win many more NFL titles in the future. Aaron has all the accolades to show for his success as he has won Defensive Player of the Year three times, in 2017, 2018, and 2020. 
He has been selected for the Pro Bowl each professional season he has played and has been in the All-pro selection seven times. Aaron was also included in the Pro Football Hall of Fame All-Decade Team of the 2010s. To sum it up, he has done it all and is only thirty-one years old with a lot healthier seasons to play. If he continues like this for a few more seasons he will no doubt be considered the greatest defensive player of all time.
Aaron Donald is currently in the fifth spot overall to win D player of the year for 2023-24 season. He is listed at +2000 at BetUS.com
The Rams are listed all the way down at +6000 odds to win the Super Bowl at BetUS