The NBA Team That Really Won the Draft Lottery
May 27, 2023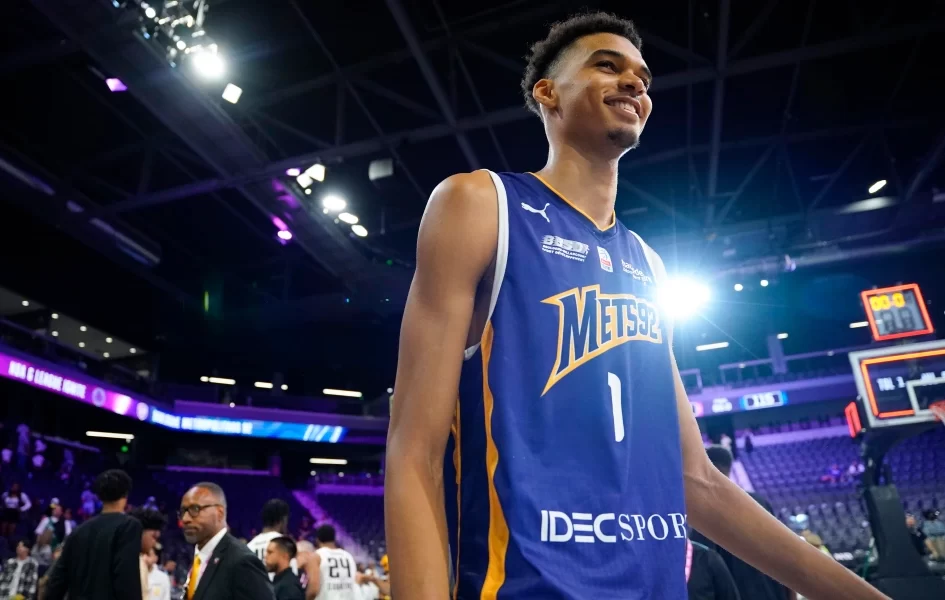 On May 16, the NBA held its annual draft lottery. The 14 teams that do not make the NBA playoffs all gather together to participate. The team with the worst record during the previous regular season has the highest chance of earning the top pick in the NBA draft. 
This year, that team was the Detroit Pistons (17-65), but it was San Antonio that earned the top selection. The Spurs and Rockets each went 22-60 to finish with the second-worst record in the league. The lottery makes the Spurs a big winner.
Spurs for the Win
With that lottery win, the Spurs will be able to draft 7-foot-2-inch French prospect Victor Wembenyana. He has been touted as the best prospect in NBA history. Wembenyana is a unique talent in that he is over 7-feet yet can play like a guard. He shoots threes regularly making him a difficult matchup.
Wembenyana spent the past two seasons playing in France's LNB Pro A, the top league in the country. He averaged 21.6 points and 10.4 rebounds per game this season and has long been expected to go first in the 2023 NBA draft. He will make an immediate impact on the Spurs as head coach Gregg Popovich continues to rebuild.
The Hornets Nest
With San Antonio taking Wembenyana, the Charlotte Hornets hold the second pick and they are likely to take Alabama forward Brandon Miller. Miller is a 6-9 do-it-all wing with great range. He shoots the three well and is an effective pick-and-roll player. The Hornets have their point guard in LaMelo Ball, which likely makes Scoot Henderson the third overall pick.
If not Henderson, there are twins Amen and Ausar Thompson and Houston's Jarace Miller, a 6-8 power forward who is a modern day 4 and can be a small-ball 5 if needed. Regardless, the top two expected picks leave a most interesting situation for one NBA team.
The Real Lottery Winner
The really interesting NBA draft lottery winner is Portland. The Trail Blazers hold the third overall pick and that puts them in a great spot. They were one of the top five teams in the lottery and most definitely would have taken Wembenyana had their number been pulled.
Now, however, they can do a number of things after yet another late-season tank job. The Trail Blazers have a strong mix of veteran talent as well as some very talented young players like Shaedon Sharpe and Anfernee Simons, who averaged 21.1 points a game last season. 
Damian Lillard had a career-best season averaging 32.2 points per game. He is a seven-time All-Star and among the best players in the league. Jerami Grant averaged 20.5 points a game and Jusuf Nurkic is another Portland veteran that is nearing or past his prime. 
Even with that mix of talent, Portland couldn't even make the play-in tournament. They shut Lillard down after 58 games. Now, the franchise has a decision to make.
Trade or No Trade
Lillard isn't getting any younger. He'll be 33 in July and he would love to have a shot at a ring. Portland owes their star $216 million over the next four years. That leaves the Blazers in a position where they can either trade him and start over or keep him and acquire pieces to complement him.
If the Hornets really do take Miller, drafting Scoot Henderson, the next best available player, doesn't make any sense…unless Portland trades Lillard. Henderson is a 6-2 guard that is essentially a young Lillard. If they want Henderson, look for the Blazers to move Lillard.
Or, the Blazers could keep Lillard and draft Miller if the Hornets opted for Henderson. Or, Portland drafts Henderson and uses him to make a draft day trade. Either way, whether Portland keeps Lillard or trades him, they are in a good spot for the future.
The Other Move
One of the rumors circulating around involves Joel Embiid. The league's MVP this season is not happy about his team's exit from this year's playoffs. He might want out of Philly. Portland could dangle that No. 3 pick – as well as a few players and other draft picks – for Embiid and pair him with Lillard.
A trade like that would make Portland an instant contender for the Western Conference and the NBA title. If the Sixers move James Harden, that scenario becomes even more possible as Philly will look to rebuild. 
While Portland didn't get the No. 1 pick and Wembenyana, the Trail Blazers may be even better off. They have tons of options and that makes them the real winner of this year's NBA draft lottery.