What Made Rob Gronkowski So Good?
June 3, 2023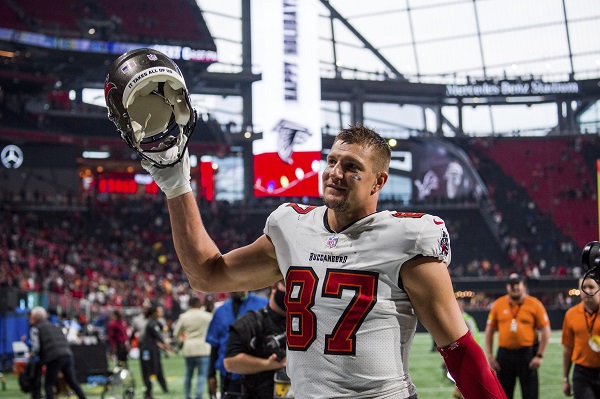 The former Patriots and Buccaneers tight end Robert James Gronkowski who was also known as "Gronk" is considered by many as one of the best tight ends in the history of the NFL. He alongside Tom Brady achieved a lot throughout their career and were a great duo. James was born May 14, 1989, and his college career was great at the University of Arizona. He played for Arizona Wildcats football under Mike Stoops. Gronk was already making a name for himself as he was performing day in and day out for his team. But due to an injury, he completely missed the junior season and did not play football. 
New England Patriots
He was then drafted by the New England Patriots in the second round and the forty-second overall pick in the 2010 NFL Draft, and as they say, "Rest is history". He won four NFL rings during his eleven-year career, three with the Patriots and one with the Buccaneers. One can say he only won because he had Tom Brady on the team, but Gronk had a role of his own that he perfectly fulfilled during his career.
In 2014 Gronk was returning from an ACL injury and still did a lot to win his first NFL ring. He had a key role throughout the season but especially in the Super Bowl game where Patriots defeated Seattle Seahawks 28-24. Gronk had six catches for sixty-eight yards and scored a touchdown late in the second quarter which boosted the Patriots towards the victory. In his second Super Bowl win James was injured and missed eight games that season including the Super Bowl game, where Patriots won against the Falcons. In the 2018 postseason, the Patriots made it to the playoffs as the second-seeded team and went on to win the Super Bowl. Gronk was again instrumental for the Patriots as he finished with eighty-seven receiving yards. He then initially retired but came back and was traded to the Buccaneers.
Tampa Bay Buccaneers 
He was reunited with Tom Brady. They both then did their magic for the Buccaneers as they won the NFL title in their debut season with them. The duo played a great part in the success that Tampa had. In the Super Bowl, Tom Brady threw three touchdown passes towards Gronk and he caught two of them. After another season with them, Gronk retired this time for good to take care of himself physically. 
Dedication and Hard Work
Rob Gronkowski had a very successful career and if his career was not haunted by injuries, he could have achieved a lot more. He had a lot of dedication towards the game and was known for his relentless drive. He will forever be known as one of the most dominant tight ends of all time and his mark on the football world will be forever. Recently, he hired an agency to pursue work for him outside of the football world. Will you be seeing Gronk on your favorite TV show soon? Who knows? Gronk is unpredictable like that.
Hall of Fame
There is no doubt in our minds that Gronkwoski will be in the NFL Hall of Fame. He will also be a first ballot. He was a giant and imposing player who muscled his way into end zones. He won 4 Super Bowls. He was a Pro Bowl selection almost every year of his career. He will be wearing the yellow jacket very soon.