What Made Patrick Wills Such a Great NFL Player?
June 13, 2023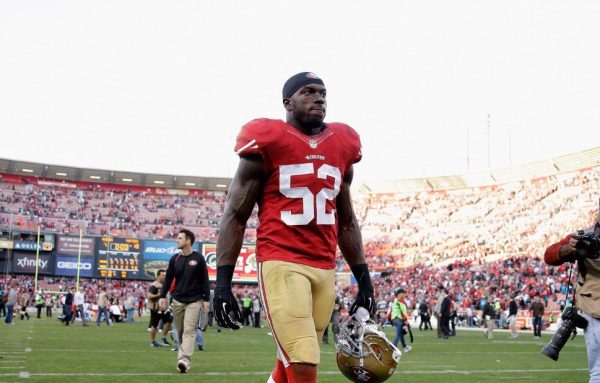 Patrick Willis born on January 25, 1985, had a very short eight-year career in the NFL but is still talked about by football fans and especially San Francisco 49ers fans. He was born in Bruceton, Tennessee and grew up in poverty and had to provide for his siblings. His father was a violent alcoholic, so he ran away with his siblings. He attended high-school at Hollow Rock-Bruceton Central High School and was great for his team in football and basketball, which earned him letters in both sports.
The University of Mississippi is where he went and there, he played for the Ole Miss Rebels football team. Patrick earned a lot of awards for his team. Willis won the top line-backer award and was a two-time all-American. 2006 was his last collegiate year and he had the most tackles throughout all of D1 football. Patrick was then drafted by the San Francisco 49ers in 2007 as a first-round pick.
Career
For the 49ers, Patrick played as a middle linebacker. He was already the best at his position for them as his first season was very successful. The 49ers did not make the playoffs, but Patrick still led in tackles and won the NFL Defensive Rookie of the Year award and NFL Alumni Linebacker of the Year. The next year the 49ers improved and had a 7-9 record but still did not make the playoffs. Patrick was still doing his job as he finished second with the most tackles. He already had established himself as one of the greats in his position. 2011 was the season that Patrick Willis finally led them to the playoffs, 49ers finished with a 13-3 record and got a bye in the wildcard rounds. Then in the divisional round, they won against the Saints 36-32 but lost the NFC championship in overtime against the Giants. Patrick was influential as he won the Defensive Player of the Year.
The 49ers again appeared in the playoffs the next season and this time they went one step further but lost at the final hurdle as the Baltimore Ravens defeated them 34-31 in the Super Bowl. Patrick had twenty-nine tackles in the postseason. In the 2013 season, Willis underwent a hand injury but still was amazing in the games that he played. In the postseason, the 49ers reached the NFC championship game and lost against the Seahawks. This was his last healthy season as in 2014 he finally agreed to have toe surgery which was a season-ending injury. Patrick Willis announced his retirement on March 10, 2015. Many thought he was stepping away too early but Patrick stated: ""I knew there would be a day I'd leave, and I always told myself that I wanted it to be on my terms. "So here I am today standing before you guys, not as a perfect man, but as an honest man… I have no regrets."
Example for others
Patrick did not win an NFL ring, but his journey showed how much he struggled to reach where he was. He is an example for individuals who want to succeed in their respective fields. Patrick was named to the San Francisco 49ers Hall of Fame.