How good was Brett Favre?
June 18, 2023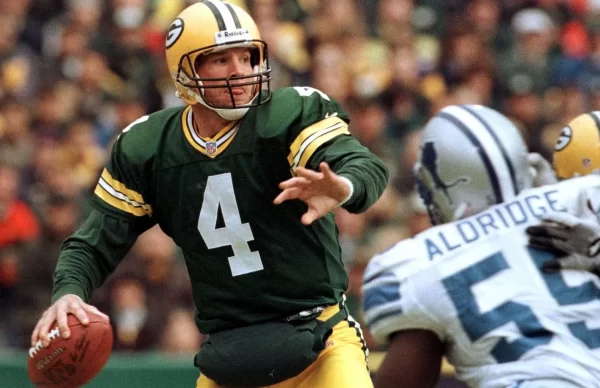 The former Green Bay Packers quarterback Brett Lorenzo (I know wtf?) Favre had a very good career. He was born on October 10, 1969, in Gulfport, Mississippi to parents who were school teachers. Brett went to Hancock North Central high school and there he played many positions for the Hawks football team including the quarterback position, which ultimately became his main position. His coach in high school was his father.
In 1987, he joined the University of Southern Mississippi because they offered him a football scholarship. His freshmen year was great as he won six games out of the ten games that he started. He continued his amazing performance and before his senior year he almost died in a fatal car accident and was rushed to hospital. He just kept asking the doctor if he would be able to play football again. Then a few weeks later he led the Golden Eagles to victory in Alabama. It was amazing that he survived but to be able to play football again was like a miracle. Favre when graduating held a lot of records for the University of Southern Mississippi.
In the 1991 NFL draft, he was selected by the Atlanta Falcons in the second round and thirty-third overall pick. He played only a few games for them and then was traded to the Green Bay Packers. 
From Early Struggles to Super Bowl Triumph and a Lasting Legacy
In his first season, The Packers failed to make it to the playoffs with a 9-7 record, but Favre was great as he led them to a six-game winning streak but lost the last game of the regular season. This resulted in missing the playoffs but earned him his first Pro Bowl. The next year, The Packers again finished with the same record but earned a playoff spot where they won the wild card round against the Detroit Lions. Favre had 204 passing yards and three touchdowns.
From 1995 on, Favre was at his prime as he won three MVPs in a row. The Packers lost in the NFC championship game in 1995 against Dallas Cowboys. But the next year it was Super Bowl time as the Packers had an amazing regular season and in the postseason they were up against the Patriots in the Super Bowl as he led them to win 35-21. It was their first Super Bowl title since 1968. Next year he again led them to the Super Bowl, but the Packers lost. It was also Favre's last appearance in the Super Bowl. 
He played football for another decade in Green Bay and joined the New York Jets and Minnesota Vikings along the way. Both of the moves were not as successful as his Packers run. He decided to retire after the 2010 season because of concussions that he had during his career. 
An example of young quarterbacks 
Brett Favre had a great career and had everything to show for it, the MVPs, the NFL title, and inclusion in Pro Bowls, The Packers also retired the number four jersey to honor him. His career can be an example of the young quarterbacks. You can be considered a wild "gunslinger" but if you play with some discipline then anything is possible.