NY Jets QB Aaron Rodgers Season Prop Bets & Analysis
June 20, 2023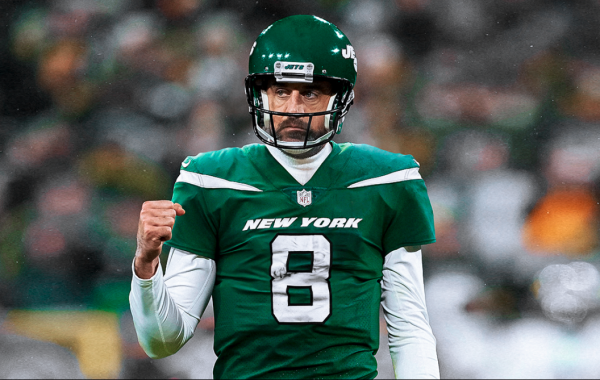 The topic today is quarterback Aaron Rodgers and current available prop bets regarding this player. As you already probably know Aaron Rodgers was traded to the New York Jets this offseason. It would be easy to write Aaron Rodgers off as a cast-off in the twilight of his career changing teams and refusing to retire. This was a valid argument until recent years when Tom Brady won a Super Bowl for the Tampa Bay Buccaneers just a few years ago.
Also, we have to consider the fact that Aaron Rodgers won League MVP just 2 years ago. He also won the award the year prior. Aaron Rodgers has won League MVP four times total. However, Aaron Rodgers has only won one Super Bowl. Will he be able to get another one, this time with the New York Jets?
Some over-under betting totals offered by the sportsbook may give us a glimpse into what is expected of the 39-year-old player.  Oddsmakers are not soothsayers but their odds should be considered as a strong and valid data point.  You can combine oddsmaker information with various other information (including your own opinion) to decide what you think is most likely to happen.
The New York Jets have a very solid defense. They gave up the fourth fewest points last season.   Many analysts have stated that the Jets are just one great quarterback away from playing in the AFC Championship Game. Well, this year will put that theory to test.
Aaron Rodgers Prop Bets Odds
odds available for wagering at BetUS.com
AARON RODGERS 4000+ REGULAR SEASON PASSING YARDS & JETS TO MAKE THE PLAYOFFS 
Yes +165
Notes: "Yes" is the only available option at this time. Considering that Rodgers has posted over 4,000 passing yards 4 of the last 5 seasons would seem to suggest that this bet is a good one to make. However, last season he threw for just 3,695. Still, you can bet Rodgers won't want to sit back and hand off the ball. He will want to force the wins the only way he knows how, by throwing the rock. Barring injury, this bet should be a YES.
AARON RODGERS 31+ REGULAR SEASON PASSING TOUCHDOWNS & JETS TO WIN AFC EAST
+265
Notes: Again, "YES" is the only option available on the board at this time. Although the above scenario can very well happen, I sure as hell would not bet on it. Miami, New England, and Buffalo are formidable this season and all three have a chance to win the conference. This ML should be double what it is. If you bet this go ahead and just light money on fire.
AARON RODGERS – TOTAL PASSING YARDS 2023/24 REGULAR SEASON
Over 4100
Under 4100
AARON RODGERS – TOTAL PASSING TOUCHDOWNS 2023/24 REGULAR SEASON
Over 30.5
Under 30.5
AARON RODGERS – TOTAL INTERCEPTIONS 2023/24 REGULAR SEASON
Over 8.5
Under 8.5
Notes: I would take the OVER here. New team, new scheme and an aging QB who will try to force balls where they shouldn't be thrown.