Why Was Victor Wembanyama the Number-one Pick in the Draft?
June 23, 2023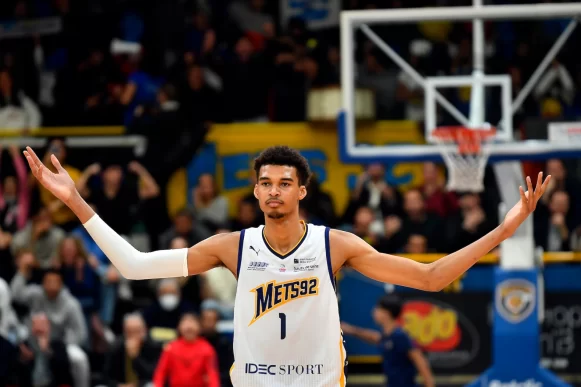 Victor Wembanyama is a 7'2″ giant who will play for the San Antonio Spurs in the upcoming NBA season. He is nineteen years old and was drafted as the number one pick. Wembanyama is one of the most exciting basketball prospects of the current generation. Let's look at his career before joining the NBA and what led to him being the first pick. 
Both his parents were athletes, so it is safe to say it was in the genes. His mother, a basketball teacher, helped him become a better player. He was born in Le Chesnay, France, and started playing for Entente Le Chesnay Versailles when he was seven; he joined Nanterre 92.
In 2018 he joined Fc Barcelona on loan and led them to third place in the Mini Copa Del Rey, although, after the season, he decided not to join them on a permanent deal. 
Professional Career 
His professional career started for Nanterre 92 in 2019. He debuted against Brescia and played for only thirty-one seconds after coming off the bench. In the 2020-21 season, he started to play regular games and shared time with a fellow center. Wembanyama also made his LNB Pro A and grabbed just a rebound in four minutes. Later he suffered an injury due to which he missed two months, and when he returned, he played more for the senior team. He was the starter in 10 pro-A games and was named the Best young player. 
ASVEL 
After the season, he left Nanterre and joined ASVEL. In the start, he got injured quite a few times, but his presence was felt when he played. In his comeback game from injury, he recorded 25 points, seven rebounds, and three blocks against Le Portel. 
Metropolitans 92
When the season ended, he left ASVEL and joined Metropolitans 92, and this was where he shined as he was one of the most dominant players in the league. NBA also announced that Metropolitan's games will be featured on its app. In a match against Limoges CSP, he scored 33 points and 12 rebounds. He was also named the captain of the France team at LNB all-star and scored 27 points and 12 rebounds. At the end of the season, he won all the awards, LNB Pro A MVP Award, Best Defender, Best Scorer, Best Young Player, and Best Blocker. He then declared himself for the NBA draft for the 2023-24 season. 
Wembanyama looks like an exhilarating player for the league, and Spurs is the perfect team where he can showcase his talent and add to their already rich history. 
Top Ten Odds for Rookie of the Year
odds available at SportsBetting.ag
Victor Wembanyama -200
Scoot Henderson +350
Chet Holmgren +500
Brandon Miller +900
Amen Thompson +1200
Cam Whitmore +2500
Ausar Thompson +2500
Jarace Walker +2800
Anthony Black +3500
Gradey Dick +4000