Can Georgia Three-Peat?
June 28, 2023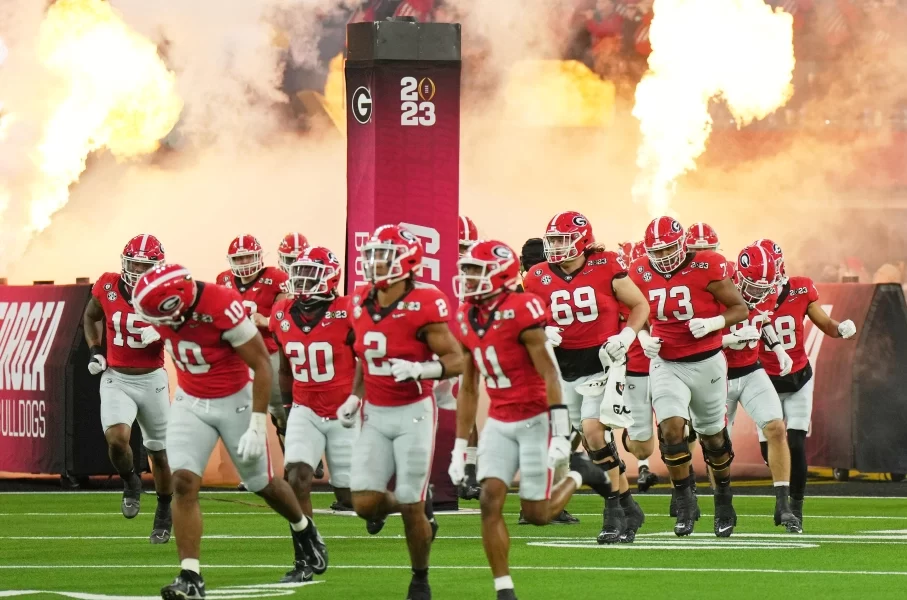 A 65-7 victory over TCU in last year's College Football Playoff national championship game put the Georgia Bulldogs in some elusive company. Head coach Kirby Smart and his Bulldogs became the 14th team since the beginning of the AP era in 1936 to win back-to-back national championships.
With a head coaching record of 81-15 in his seven seasons at Georgia, Smart is primed to do what no other CFB head coach has ever done – win a third consecutive national championship. The 13 teams prior have had some close calls, but none were able to pull it off. Can Georgia grab the elusive three-peat?
Anything is possible, but a long look at history will help the decision making.
Go Army, Tie Notre Dame
The legendary Red Blaik led Army to consecutive national titles in 1944 and 1945. The Black Knights won 25 straight games before they faced Notre Dame in 1946 in one of the greatest college football games in history. The two teams played to a scoreless tie. 
The result gave Notre Dame the national championship. Army (9-0-1) finished second. That started a run for the Irish.
Touchdown Jesus
With the 1946 title in hand, Notre Dame and head coach Frank Leahy won again in 1947 led by Heisman Trophy-winning quarterback Johnny Lujack. On their way to the 1948 title and a potential three-peat, the Irish were passed in the polls by Michigan. Notre Dame would finish the season with a tie against USC and wound up No. 2. The Irish did come back and win the 1949 title. 
Cornhusker Domination
Nebraska won consecutive national titles in 1970 and '71 under Bob Devaney but went 9-2-1 in 1972 and finished No. 4 in the nation. Legendary head coach Tom Osborne took over the program and put together one of the most dominant stretches ever in college football history.
After playing second-fiddle to Oklahoma for quite some time, Osborne and Nebraska went unbeaten and won 25 straight games on their way to consecutive national championships in 1994 and 1995. What's interesting to note is that Nebraska could have completed the three-peat and possibly even a four-peat. 
Before winning the '94 title, Nebraska lost to Florida State in the 1993 national championship game. The Cornhuskers missed a field goal on the last play of the game and lost to the Seminoles 18-16.
On the other end, the Huskers won the '95 title then proceeded to make their way back to the Big 12 title game. Nebraska was a double-digit favorite over Texas. A win would have put them in the national title game against Florida State. Nebraska lost to the Longhorns 37-27 and wound No. 6 in the nation.
USC Fails
Speaking of the Longhorns, they also prevented USC from becoming the first team to three-peat in 2005. The Trojans won the 2003 and '04 national championships. Head coach Pete Carroll's team won 34 straight games before they faced Texas and a dynamic QB named Vince Young.
Young scored the game-winning touchdown with nine seconds remaining to give Texas a 41-38 win and end USC's shot at three in a row. USC finished No. 2
Georgia in 2023
History is not on the side of the Bulldogs. Since the wire service era began in 1936, no team has ever won three consecutive national championships. In today's era, it is extremely hard to do what Georgia did and go back-to-back. What's interesting is that the Bulldogs won it last year without a single starter who was a transfer.
What is on Georgia's side is the roster and the schedule. When Smart opens camp in August, he will have 18 players who have started for a two-time national champ. He'll have to replace two-time title-winning QB Stetson Bennett, but Carson Beck, a former four-star recruit, has waited for his turn. 
The schedule should put the Bulldogs at 10-0 when they head to Tennessee in a game that should decide the SEC East. Georgia opens with Tennessee-Martin and Ball State then gets South Carolina at home before entertaining UAB. The one bump in the road is a Sept. 30 date at Auburn. They will also play Florida in Jacksonville on Oct. 28. The Bulldogs avoid Alabama and LSU in the regular season and have a clear path to another SEC title game.
Georgia is a +225 favorite to win it all again at top rated sportsbooks. That number will continue to drop as they enter the season and start racking up wins. If Beck is serviceable, this is a team with enough talent and experience to do what has never been done before – win three consecutive NCAA CFB championships.