UFC 290 Preview
July 5, 2023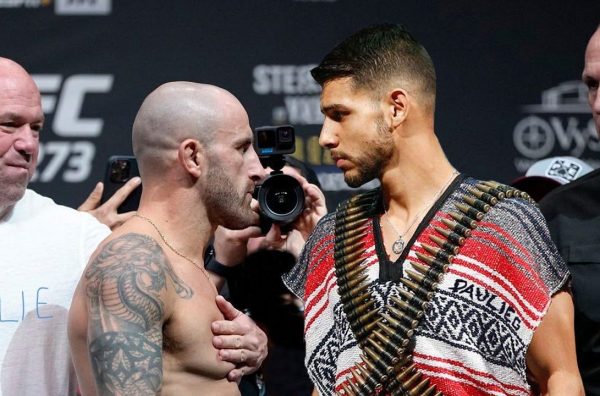 UFC 290 returns to T-Mobile Arena in Las Vegas Saturday evening. There is great anticipation around this set of bouts, with the headliner between Alexander Volkanovski and Yair Rodriguez. 
There are some great betting options to explore as well. Here's a look at the main event, along with other pairings that should have your attention. 
Volkanovski vs. Rodriguez
We will start at the best place to start, as Alexander Volkanovski is dropping back to the featherweight division to oppose Yair Rodriguez, the interim champ. 
Volkanovski is the prohibitive choice in here, priced at -400, according to UFC 290 odds. 
This only makes sense when looking back at his career. He has won a dozen consecutive featherweight fights, always with good showings in the biggest UFC events. 
Rodriguez isn't going to just let Volkanovski have his way, as he's also won some impressive fights in his career. Around the sport nearly a decade, he doesn't intend to squander this shot. 
This ends before the full five rounds. Taking Volkanovski is the safer play to be sure, but there is a chance Rodriguez finds a way. So, Rodriguez (+300) is the smarter betting decision to make. 
Moreno vs. Pantoja
With so many bouts worth watching in each card, every single weekend, it will be a flyweight tilt leading into the main event at UFC 290. Brandon Moreno takes on Alexandre Pantoja. 
Moreno is favored, odds of -190, with Pantoja +155. 
It's the third time these fighters have squared off in UFC. Pantoja with wins in the first two bouts. That's a pretty good idea how this fight will unfold. Moreno hasn't been able to figure out his foe.
Turner vs. Hooker
Back in UFC 285, there was a chance of seeing Jalin Turner oppose Dan Hooker. However, injuries scuttled that. Rejoice, as the pairing has been added to the main card at UFC 290, and it should be a great battle between lightweight competitors. 
If you're a fan of bouts with very aggressive fighters, this is going to be the fight to see Saturday evening. Both Turner and Hooker feel there's something to prove. They will be on a mission to get that done here. Over/under in this three-round bout is 1½, as per Hooker vs. Turner odds.   
Turner's the solid fave at -260, with Hooker at +200. That's a rather large gap in odds, but Turner has the advantage. Laying the number with him is the only way to go. 
Crute vs. Menifield
Looking at the prelim card at UFC 290, there's a fight with a ton of intrigue as Jimmy Crute taking on Alonzo Menifield. This is actually the second 2023 meeting between these fighters. They ended in a draw earlier. 
Crute had a great start to his UFC career, but just 0-2-1 in his last four matches in the Octagon. Menifield, meanwhile, is 4-1-1 after a mediocre (2-2) beginning.
Since these fighters know one another quite well, there's a chance another draw is possible. However, Crute (-125) is the play we're recommending,