The Only Teams That Can Make The 2023-24 College Football Playoff
July 7, 2023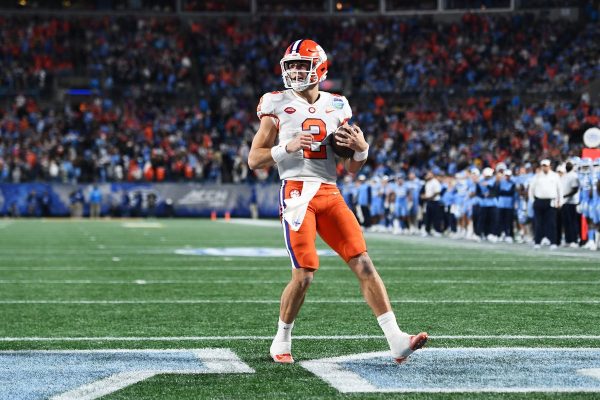 If we're being real, there are maybe six to ten college football teams that have a realistic chance of making the CFP this season. There are 133 FBS programs this season (Sam Houston State and Jacksonville State made the jump from FCS), but only 4.5 to 7.5 percent of all those teams have a shot at a national championship.
If you don't believe it, take a look at the most recent college football playoff odds. Georgia (+225) is the overwhelming favorite even though no team since 1936 has ever won three consecutive college football national championships.
Only four teams are given odds below +1000 and the majority of college football programs have five digits after the plus sign. That's simply because there are only a few teams that can win it all and bettors can start by eliminating a big chunk of them right away.
Eliminate Group of 5
Sure, those odds look great, but placing a futures bet on a Group of 5 school to somehow make the CFP and then win a national title is ridiculous. 
Last year, a well-known sportsbook took three – not one, not two, but three – $1,000 bets on Utah State to win the 2022 CFP. The bettors should have taken the three grand and donated it to charity. There's no way a Group of 5 school is winning a national title. By the way, Utah State went 6-7 last year.
There are 65 teams in Group of 5 conferences. None of them have a shot at making the CFP this season. A few years ago, Cincinnati pulled it off because it went unbeaten, won its conference championship and had a big win over a ranked Notre Dame team early in the season. Cincy is now in the Big 12 and no other Group of 5 team is that talented.
Eliminate the Have-Nots
There are CFB programs that have and there are those that have-not. Northwestern isn't playing for a national title after going 1-11. Vanderbilt? Rutgers? Boston College? Arizona? C'mon!
You can eliminate all of the poor teams in the Power 5 conferences plus all the teams that will be "good." Winning nine or ten games in a Power conference is great. It just isn't good enough.
Tennessee won 11 games last year. They were nowhere near the College Football Playoff. It takes an elite program that doesn't lose very often. It usually takes a conference title and it takes a game or two against other elite competition. 
The CFP Candidates
Knowing all of this, bettors can set their field and choose wisely when betting national championship futures. 
In the history of the CFP, Clemson and Florida State are the only two teams to make it from the ACC. Both teams will have a shot this season. 
Before TCU last season, Oklahoma was the only Big 12 team to make the CFP. The Sooners made it four times but never won a national semifinal game. This season, the conference has its work cut out. The Big 12 typically beats up on each other and the committee doesn't like two-loss teams.
The Pac-12 has seen Oregon and Washington make it, but no school has made it in the last six seasons. USC could change that this year. Their head coach is Lincoln Riley who took Oklahoma to the CFP those four times. The only other Pac-12 school with a shot is Washington, which returns QB Michael Penix and an explosive offense.
The SEC and the Big Ten are the Big Two. An SEC team has won the last four straight national championships and six of the nine in the CFP era. Alabama has three titles and Georgia has won the last two.
To earn a CFP berth, it typically takes an unbeaten or one-loss season plus a conference championship. Wins over ranked teams help but, ultimately, every single participant in the CFP has had either one loss or went unbeaten. 
Clemson and Florida State play each other in the regular season. That game could be the difference in making the playoff. Ohio State and Michigan meet in their annual rivalry game at the end of the regular season. The Wolverines have made the last two playoffs after beating the Buckeyes.
Washington, Oregon, and USC all play each other in the Pac-12 this year. If one of those three can go unbeaten in regular season play and win the conference title game, maybe they can break the conference's drought. 
In the end though, here are the schools that can realistically win this year's college football national championship (along with their odds to win). Keep in mind, there are a few on the list that will be eliminated with a single loss. Oregon is one of those.
Georgia

+225

Alabama

+600

Ohio State

+600

Michigan

+900

USC

+1400

Clemson

+1600

LSU

+1600

Florida State

+1800

Tennessee

+2800

Oregon

+3300

Washington

+4000
Odds from SportsBetting.ag