The Worst Head Coach Firings in Recent College Football History
July 12, 2023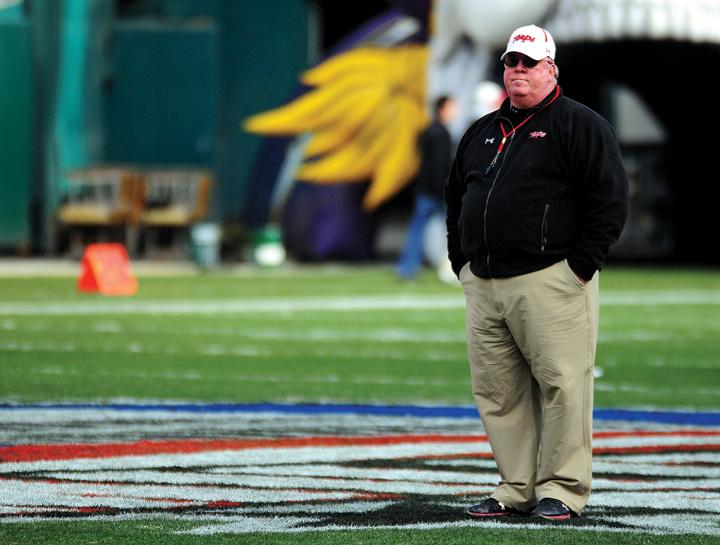 Pat Fitzgerald is out as the head coach at Northwestern. It's the first firing of the 2023 college football season, even though we haven't even kicked off yet. That's still a little over a month away, but Northwestern will begin the season with someone other than Fitzgerald, who has served as the Wildcats head coach since 2006. 
Reports of hazing led to a suspension at first before Northwestern president Michael Schill announced that Fitzgerald was let go. Whatever shakes out, it won't be good for the Northwestern football program.
Over the last few decades, there have been some other college football firings that have not turned out so well for the schools doing the firing. The circumstances are a bit different, but here's a look at the worst head coach firings in recent college football history.
Miami Fires Larry Coker
Remember when Miami was an annual favorite to win the national championship? Yeah, those days are long gone. It started when the Hurricanes got tired of Coker, who had a three-year stretch of going 35-3 with a national title and three straight top-5 finishes.
Then, Coker's Hurricanes went 9-3, 9-3, and – gasp! – 7-6. Miami fired Coker and the Canes' program went in the tank. Since Coker's firing, Miami has finished a season ranked in the top-25 just four times. The Hurricanes have played in exactly one New Year's Six bowl game and have a collective record of 111-78. 
Manny Diaz just went 6-7, 8-3, and 7-5 and got the axe. Former Hurricanes player and assistant coach Mario Cristobal was hired this offseason to see if he might be able to restore some luster to the Canes' program.
Nebraska's Double Play
The Cornhuskers program was at its peak under Tom Osborne. Frank Solich was Osborne's top assistant and named as his successor when he retired in 1997. All Solich did was win three Big 12 Division titles, a Big 12 title, play for a national championship and go 58-19 in six seasons. 
But, the Big Red faithful just couldn't hack Solich's 9-3 final season. They cut him loose. That was a big mistake. Bill Callahan was hired and went 5-6 in his first season. Yikes! Callahan's 27-22 record in four seasons earned him a ticket out of Lincoln.
Nebraska then chose Bo Pelini, who had served as the defensive coordinator in Lincoln under Solich. Pelini won nine or more games in all of his seven seasons. He won four Big 12 division titles and finished ranked in the top-25 in all but one season. 
For his efforts, Pelini was let go after going 9-3 in 2014. Since then, the once-glorious Cornhusker program is a dismal 38-56. Mike Riley went 19-19 in three seasons. Then, prodigal son Scott Frost was viewed as the savior of the program. He won five games in a season just once, finishing 19-37 overall. Matt Rhule was hired in the offseason to try and right the ship.
Maryland Turns Off the Fridge
Ralph Friedgen was a hot commodity as the Georgia Tech offensive coordinator. His offensive prowess earned him the head coaching job at Maryland in 2001. Right off the bat, Friedgen went 10-2 and won the ACC title. He had three straight double-digit-win seasons before some tough 5-6 campaigns.
He recovered to produce three more winning seasons among his 10 in College Park. In his final season, Friedgen was doing such a good job that his staff got raided. Then-assistant James Franklin was named the head coach at Vanderbilt. He took a number of Maryland coaches with him and the school's AD saw it as a time to get rid of Friedgen.
At the time, Maryland was 8-4 and getting ready to play East Carolina in the Military Bowl. Friedgen learned he was getting fired while hosting recruits on campus. He responded with a 51-20 blowout over the Pirates.
In the ten years that followed, Maryland football went 43-73. The Terrapins had two winning seasons, both 7-6. The program may be headed in the right direction under current head coach Mike Locksley. Maryland went 7-6 in 2021 and 8-5 last season.
Worth Mentioning
Tennessee is finally back in the national picture under head coach Josh Heupel after going 11-2 last season. The Vols fired legend Philip Fulmer who went 152-52, won a BCS national championship in 1998, and had five straight top-10 finishes in the late 1990s. Tennessee went 69-66 from Fulmer's firing through the 2020 season.
P.J. Fleck has done a wonderful job at Minnesota. Hopefully, the Gophers faithful doesn't treat him like Glen Mason. Mason went 64-57 in ten years at Minnesota. In four of his last five seasons, Mason's Gophers had a winning season. Each of the last five seasons produced a bowl game berth.
It wasn't enough and Minnesota fired Mason. Up until Fleck was hired in 2017, the Gophers went 55-67. Minnesota just went 9-4 last season.