Northwestern's Fitzgerald Should Have Already Been Gone
July 15, 2023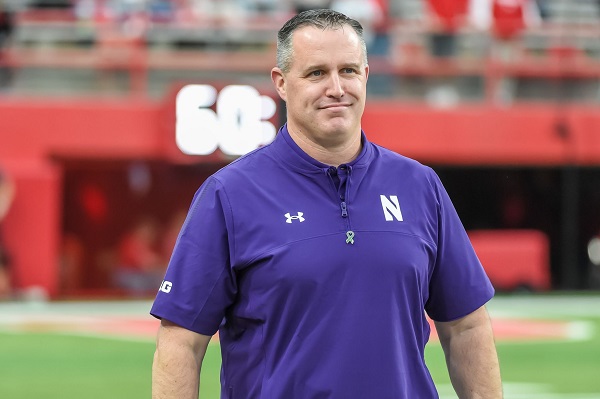 It's the time of year when sports fans and bettors are taking an extended nap. However, one of the historically worst college football programs ever has given fans everywhere something to talk about.
Northwestern head coach Pat Fitzgerald was fired this week when a culture of hazing activity was revealed. Fitzgerald was the winningest coach in Wildcats history, one that is full of its share of losses. Northwestern has lost 607 games and has a winning percentage of just 44.6%. That ranks the Wildcats 118th out of 133 FBS college football programs.
Fitzgerald had three 10-win seasons and nine seasons above .500 in Evanston, still one could argue that he should have been shown the door before all this hazing nonsense came to light. 
The Good Run
Fitzgerald's Wildcats had a great run from 2015 to 2020, going 46-28 overall with two 10-win seasons (2015, 2017). Awesome, right? Well, the Wildcats do play in the Big Ten West Division, which is the weaker of the two divisions in the conference.
In every season from 2015 through 2022, Fitzgerald was able to dodge Penn State, Michigan, Ohio State, or some combination of the three. In going 10-3 in 2017, the Wildcats lost to Wisconsin in the division, lost to Penn State, and avoided playing the Buckeyes and Wolverines. 
The next season, Northwestern managed to win an extremely weak West Division while losing to Michigan and avoiding Penn State and Ohio State in the regular season. Too bad Fitz couldn't have avoided the Buckeyes in the Big Ten championship game. The Wildcats got stomped 45-24.
Then, there was the COVID season. The Wildcats were very good defensively, but they played a conference-only schedule that avoided PSU, Ohio State, and Michigan. Northwestern won the division again and ended up losing to the Buckeyes in the conference title game again. 
Is It Bad?
Now, you could go back to consecutive 5-7 seasons in 2013 and 2014 and come up with some reasons why Fitzgerald could have been let go at that point. But, remember, this is Northwestern. Five wins in Evanston must be like eight in dog wins, right?
With Fitzgerald's success mounting in 2015 and carrying over into the next few seasons, Northwestern began a massive upgrade of its football facilities. The project was completed in the summer of 2018 and actually improved the facilities for all of the university's athletic programs. The project cost a total of $260 million.
After winning that division title in 2018 and going 9-5 (all while avoiding some of the best teams in the Big Ten), Fitzgerald went 14-31. Take out the ridiculous COVID year and you have a program that resembles the history of Northwestern football – 7-29. That would be enough to get anyone fired. 
End of an Era
Over the course of Fitzgerald's reign, the program never really endured the lack of success it did in the 1970s and '80s. One thing Fitz was able to do, at least over the first two-thirds of his tenure at Northwestern, was win. It's something the Wildcats have had to get used to over the past few decades.
Alex Agase had the second of back-to-back winning seasons in 1972 when Northwestern went 7-4. After that season, the Wildcats would suffer through 23 consecutive losing campaigns.
Over a six-stretch from 1976 to 1981, Northwestern won three football games. Three! The Wildcats went 3-62-1 in those six seasons and didn't experience the thrill of winning until 1995 when head coach Gary Barnett had a star running back named Darnell Autry and the National Defensive Player of the Year…a linebacker named Pat Fitzgerald.
Whatever happens next at Northwestern is anyone's guess. The Wildcats could have saved themselves from the fallout that comes following a major scandal by simply letting go of a head coach that was 14-31 in his last 45 games. But, then again, Northwestern hasn't had much success in figuring out how to handle winning consistently. And they may never again.