Big 12 Conference Football Preview
July 17, 2023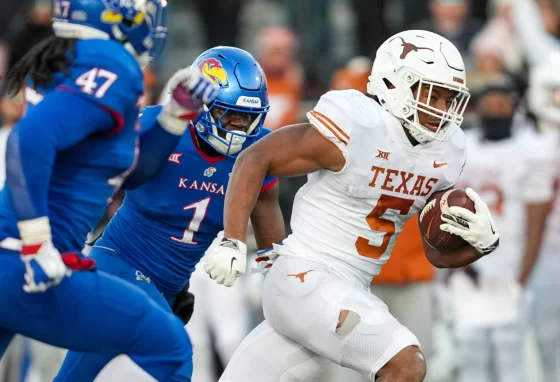 Big 12 football is going to be extremely interesting this season. Four new schools-Brigham Young, Central Florida, Cincinnati and Houston-entering the league, as departing Oklahoma and Texas are off to the Southeastern Conference after 2023.
While the Big 12 Conference hasn't always produced at the College Football Playoff level (Texas Christian's appearance in last season's title game notwithstanding), this is always a league that's competitive with some balance. Thus, difficult to predict who emerges as champ.
However, it does look as those two lame-duck teams should fare very well in the league, at least according to college football conference odds.
Here is a look at the Big 12 board, with a pick to win the league as well. 
'Horns and Sooners
The two teams with the best players are (shockingly) the two teams with the lowest odds.
Texas is favored to win the Big 12 Conference, priced just above even-money at 11-10 (+110). That's because the Longhorns are loaded, especially at the quarterback position with projected starter Quinn Ewers and the latest-off-the-family tree in Arch Manning. 
Oklahoma's second choice at 7-2 (+350). The Sooners are long-time Red River rivals of Texas, with a ton of success on its own. OU is beginning the season as a fat, 33-point home favorite over Arkansas St., as per college football odds.  
If you're a believer in either side, Texas is 20-1 (+2000) to win the national championship this season, OU at 60-1 (+6000). 
Rest of Roster
Do not look at the 14-school Big 12 as a two-team race. TCU lost in the aforementioned College Football Playoff last season, and the Horned Frogs intrigue this time around at 16-1 (+1600).
Here is a look at non-Texas/Oklahoma odds…  
Kansas St. 5-1 (+500) 

Texas Tech 10-1 (+1000)

Texas Christian 16-1 (+1600) 

Baylor 18-1 (+1800)

Central Florida 40-1 (+4000) 

Iowa St. 40-1 (+4000) 

Kansas 40-1 (+4000) 

Oklahoma St. 50-1 (+5000) 

Cincinnati 60-1 (+6000) 

West Virginia 70-1 (+7000) 

Brigham Young 80-1 (+8000) 

Houston 100-1 (+10000)
The Kansas St. Wildcats, despite some key personnel to replace, are the biggest challengers to Texas and Oklahoma, if the odds are correct. They're a solid third choice at 5-1 (+500). 
Conversely, none of the quartet of newbies figure to threaten, at least 40-1 (+4000) each.
Texas the Choice
Texas is loaded this season, though how the quarterback "controversy" sorts itself out is an issue. This will be the season the Longhorns return to relevance, 
Texas is going to beat Oklahoma at the Red River en route to running the table in the Big 12 Conference. Hook those 'Horns at +110 to win the conference, then don't be surprised to see Texas back in the College Football Playoff as well.