UFC Fight Night Preview
July 20, 2023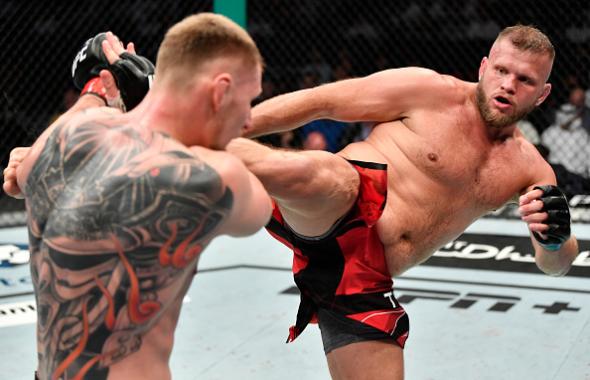 UFC's no stranger to traveling around the world, with the next stop London this Saturday night. As with other stops along the way, UFC has selected some terrific bouts to showcase.
Both the main and the preliminary card at UFC Fight Night London are loaded, plenty of drama and excitement throughout the program. Here is a look at some of the best bouts (and bets). 
Aspinall vs. Tybura
The Saturday night feature is a pair of ranked heavyweights in Tom Aspinall against Marcin Tybura. Aspinall's no stranger to London. He was a part of the last two UFC cards there.
There are some big questions surrounding Aspinall heading into this bout, though. An injured knee forced his last fight to end after just 15 seconds. He was on a path to a shot at the heavyweight title before the injury curtailment, and now hoping to get back on track.
Tybura has won seven of his last eight fights, including his last two. He is a veteran in this sport at 37, though hasn't been on a path to the title.
Aspinall is hugely favored at -450, according to UFC odds. Tybura is priced at +325. With injury concerns to Aspinall, take the underdog at that number.
Wood vs. Fili
Flyweights Nathaniel Wood and Andre Fili are also part of the main card in London. True UFC fans know that this is the perfect bout in this weight class. 
Wood is hometown favorite in this event, and he is also the moneyline choice at -190 (Fili at +160). He is a fighter that has proven to possess the technical details, but now facing an aggressive foe in Fili.
Fili's never really seen as a challenger to the title. Things haven't always come along the way, either. To his credit, that's turned him into a fighter who takes on anyone. 
This is a bout that should go the (three-round) distance, but we're expecting Wood to give the home folks a result they desire. Lay the -190 number in this bout. 
Craig vs. Muniz
The Saturday night middleweight feature in London has Paul Craig against Andre Muniz. Craig's lost two straight bouts, and his first bout at this level is against a top-15 fighter in Muniz.
It's a division that's really created some drama, and a win by Craig would make things more interesting among the rankings. Muniz is hoping to continue to climb the ladder, but he needs to first figure out Craig. 
Do not expect this to last long, with the over/under at just 1½ rounds (over -125, under -105) 
Craig at +185 is the way to go.
This card also comes with plenty of other opportunities to wager, as per UFC prop odds.