Which College Football Teams Performed Best Against the Spread in 2022?
July 22, 2023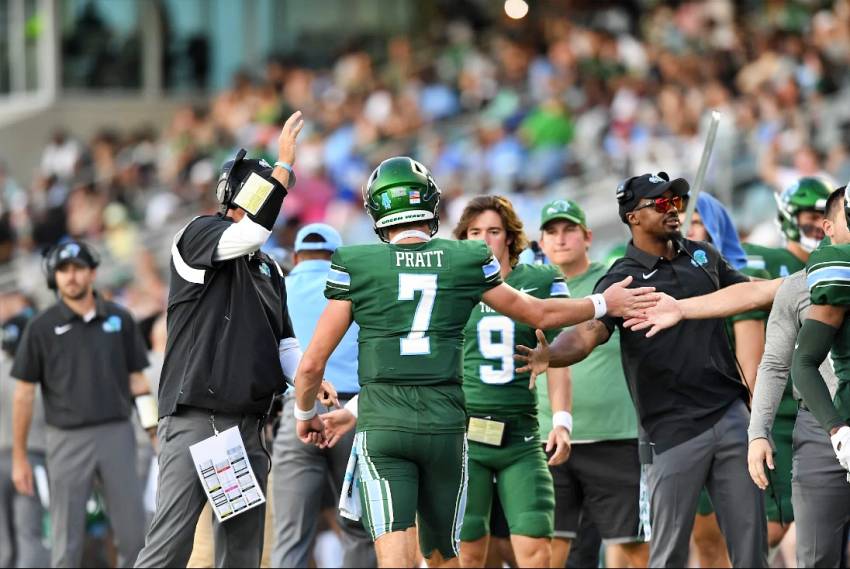 College football is no doubt one of the most exciting sports in the world. Young men buckle up their helmets and battle over a small misshapen brown ball. The hits are great and the athletic ability is something to behold. This is why we here at SBA are excited to welcome our 16th college football season.
With that little preamble out of the way let's take a look at teams who performed the best against the spread last season.
Teams that perform well against the spread do so because linesmakers undervalued them. They simply played better than linesmakers anticipated week after week. The books never caught up to how capable the team really was. Teams that are able to accomplish a great ATS record are usually not the very upper echelon teams either. This is because the action for the most popular and higher echelon teams is usually always on their side, which automatically pumps up the line.
Case in point would be to simply look at the top three teams ATS last year. Tulane (12-2 ATS), Oregon State (11-2 ATS), & Troy at 11-3 ATS. These are by no means juggernaut teams that grab the headlines like say an Alabama or Clemson. They are able to assemble wins week after week or at the very least, they are able to keep the games much closer than anticipated.
 – See Live college football lines here – 
Speaking of Alabama and Clemson, the Crimson Tide went just 6-6-1 against the spread and the Tigers went 7-7. Again, this is because everyone knows they are good and people love to bet on teams that win, regardless of how big the line is. In some of their games these two teams were favored by 5 or 6 TD's. But, that won't stop a square from plunking down a few hundred on them anyway.
The Worst Teams ATS in 2022
The teams that fare the worst ATS are simply overrated. Week in and week out they go out there and screw the pooch so to speak. Colorado, Stanford and Miami FL were all tied for the worst ATS record in 2022 at 2-10. All three programs have seen better days. Stanford finally got rid of that dud head coach David Shaw. He "stepped down" according to the press release but you can be sure that he was canned.
Colorado brought in Neon Deion Sanders to head their program this off-season. He has been a busy bee since he got the job. In fact,  he has gutted that team and brought in dozens of his own players. Recently, he spoke about what a mess he inherited at Colorado.
Full List of College Football Teams ATS for 2022
| Team | ATS Record | Cover % |
| --- | --- | --- |
| Tulane | 12-2-0 | 85.7% |
| Troy | 11-3-0 | 78.6% |
| Oregon St | 11-2-0 | 84.6% |
| TX Christian | 10-4-1 | 71.4% |
| Tennessee | 10-3-0 | 76.9% |
| S Mississippi | 10-3-0 | 76.9% |
| W Kentucky | 9-5-0 | 64.3% |
| Penn State | 9-3-1 | 75.0% |
| Ohio | 9-4-1 | 69.2% |
| Kansas St | 9-4-1 | 69.2% |
| Hawaii | 9-4-0 | 69.2% |
| Duke | 9-4-0 | 69.2% |
| Connecticut | 9-4-0 | 69.2% |
| Washington | 8-5-0 | 61.5% |
| Wash State | 8-5-0 | 61.5% |
| Wake Forest | 8-5-0 | 61.5% |
| Utah | 8-6-0 | 57.1% |
| USC | 8-6-0 | 57.1% |
| Texas Tech | 8-5-0 | 61.5% |
| Texas | 8-5-0 | 61.5% |
| Temple | 8-4-0 | 66.7% |
| Oregon | 8-5-0 | 61.5% |
| North Texas | 8-6-0 | 57.1% |
| N Mex State | 8-5-0 | 61.5% |
| Michigan | 8-5-1 | 61.5% |
| LSU | 8-6-0 | 57.1% |
| Louisville | 8-5-0 | 61.5% |
| Kentucky | 8-5-0 | 61.5% |
| Iowa | 8-5-0 | 61.5% |
| Illinois | 8-5-0 | 61.5% |
| Georgia | 8-7-0 | 53.3% |
| Florida St | 8-5-0 | 61.5% |
| E Carolina | 8-5-0 | 61.5% |
| UNLV | 7-5-0 | 58.3% |
| TX-San Ant | 7-7-0 | 50.0% |
| Syracuse | 7-6-0 | 53.9% |
| S Carolina | 7-6-0 | 53.9% |
| S Alabama | 7-6-0 | 53.9% |
| Rice | 7-6-0 | 53.9% |
| Notre Dame | 7-6-0 | 53.9% |
| Navy | 7-5-0 | 58.3% |
| Missouri | 7-6-0 | 53.9% |
| Miss State | 7-5-1 | 58.3% |
| Minnesota | 7-6-0 | 53.9% |
| Memphis | 7-6-0 | 53.9% |
| Maryland | 7-6-0 | 53.9% |
| Marshall | 7-6-0 | 53.9% |
| LA Lafayette | 7-6-0 | 53.9% |
| Kansas | 7-5-1 | 58.3% |
| James Mad | 7-4-0 | 63.6% |
| GA Southern | 7-6-0 | 53.9% |
| Fresno St | 7-7-0 | 50.0% |
| Florida | 7-6-0 | 53.9% |
| E Michigan | 7-5-1 | 58.3% |
| Clemson | 7-7-0 | 50.0% |
| Central FL | 7-7-0 | 50.0% |
| California | 7-5-0 | 58.3% |
| Buffalo | 7-5-1 | 58.3% |
| Baylor | 7-6-0 | 53.9% |
| Army | 7-5-0 | 58.3% |
| Arkansas St | 7-5-0 | 58.3% |
| Arkansas | 7-6-0 | 53.9% |
| Air Force | 7-6-0 | 53.9% |
| Wyoming | 6-6-1 | 50.0% |
| Wisconsin | 6-7-0 | 46.2% |
| W Virginia | 6-6-0 | 50.0% |
| W Michigan | 6-5-1 | 54.6% |
| UCLA | 6-7-0 | 46.2% |
| Pittsburgh | 6-7-0 | 46.2% |
| Oklahoma St | 6-7-0 | 46.2% |
| Ohio State | 6-6-1 | 50.0% |
| N Carolina | 6-7-1 | 46.2% |
| Middle Tenn | 6-6-1 | 50.0% |
| Miami (OH) | 6-7-0 | 46.2% |
| Liberty | 6-7-0 | 46.2% |
| LA Tech | 6-6-0 | 50.0% |
| Georgia State | 6-5-1 | 54.6% |
| GA Tech | 6-6-0 | 50.0% |
| Fla Atlantic | 6-6-0 | 50.0% |
| Colorado St | 6-6-0 | 50.0% |
| Boise State | 6-7-1 | 46.2% |
| Ball State | 6-6-0 | 50.0% |
| Arizona | 6-6-0 | 50.0% |
| Alabama | 6-6-1 | 50.0% |
| Akron | 6-5-1 | 54.6% |
| Vanderbilt | 5-7-0 | 41.7% |
| U Mass | 5-7-0 | 41.7% |
| TX El Paso | 5-7-0 | 41.7% |
| Toledo | 5-9-0 | 35.7% |
| Texas State | 5-7-0 | 41.7% |
| San Diego St | 5-8-0 | 38.5% |
| S Methodist | 5-8-0 | 38.5% |
| S Florida | 5-7-0 | 41.7% |
| Rutgers | 5-6-1 | 45.5% |
| Purdue | 5-9-0 | 35.7% |
| Old Dominion | 5-7-0 | 41.7% |
| Oklahoma | 5-8-0 | 38.5% |
| Northwestern | 5-7-0 | 41.7% |
| Nebraska | 5-7-0 | 41.7% |
| LA Monroe | 5-7-0 | 41.7% |
| Kent State | 5-7-0 | 41.7% |
| Houston | 5-8-0 | 38.5% |
| Florida Intl | 5-7-0 | 41.7% |
| BYU | 5-8-0 | 38.5% |
| Auburn | 5-6-1 | 45.5% |
| Arizona St | 5-7-0 | 41.7% |
| Virginia | 4-6-0 | 40.0% |
| VA Tech | 4-7-0 | 36.4% |
| Utah State | 4-9-0 | 30.8% |
| UAB | 4-9-0 | 30.8% |
| Texas A&M | 4-7-1 | 36.4% |
| San Jose St | 4-8-0 | 33.3% |
| Nevada | 4-8-0 | 33.3% |
| NC State | 4-9-0 | 30.8% |
| N Illinois | 4-8-0 | 33.3% |
| Mississippi | 4-8-1 | 33.3% |
| Iowa State | 4-7-1 | 36.4% |
| Indiana | 4-8-0 | 33.3% |
| Coastal Car | 4-8-1 | 33.3% |
| Charlotte | 4-7-1 | 36.4% |
| Central Mich | 4-7-1 | 36.4% |
| Bowling Grn | 4-8-1 | 33.3% |
| Boston Col | 4-8-0 | 33.3% |
| Tulsa | 3-8-1 | 27.3% |
| New Mexico | 3-8-1 | 27.3% |
| Michigan St | 3-6-3 | 33.3% |
| Cincinnati | 3-9-1 | 25.0% |
| App State | 3-9-0 | 25.0% |
| Stanford | 2-10-0 | 16.7% |
| Miami (FL) | 2-10-0 | 16.7% |
| Colorado | 2-10-0 | 16.7% |
| Sam Hous St | 1-0-0 | 100.0% |
| Jacksonville State | 0-1-0 | 0.0% |