2023 Chicago Bears Season Preview
July 26, 2023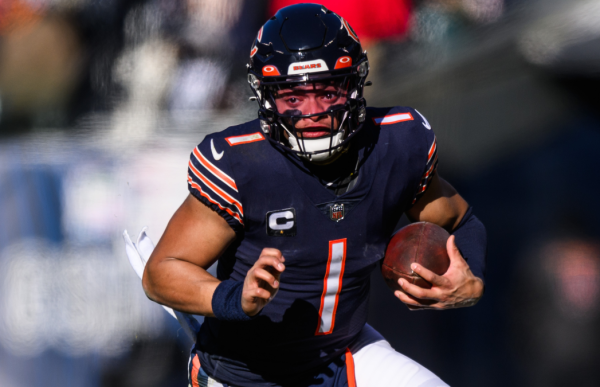 This is the start of our 2023 NFL team-by-team preview for the upcoming season. Players are reporting to camp and we know who the players are and have studied the variables. Our hopes are that with this series of articles you can help make an informed decision about how you approach betting on the NFL regular season.
The Chicago Bears did not have as successful of a season as they had hoped. To start off, they may have finished fourth in the NFC North but still finished very last in the NFL standings. They started off the previous season with a very strong win against the San Francisco 49ers and also won a few games up until Week 3. It was after Week 4 that they lost their winning record for good and weren't able to make a comeback in the entire season. Even a win in Week 7 wasn't enough to hype up the players to improve their games. Fans had expected better of them but were disappointed with the lack of effort and focus. With the upcoming season nearing, fans are, yet again, eager to see if the team is willing to make up for all that went wrong last time.
A fiery offseason awaited the Bears as they had many opportunities to change up the roster if they wished to have a better next season. Head Coach Matt Eberflus, back for his second season with the Bears, planned to make every possible change and adjustment that could potentially lead them to the playoffs. They had a lot of much cap space and took full advantage of it upgrading the entire team. The whole roster needed attention and they managed to provide it to most of it in just one season. This flipped the entire roster. Justin Fields is their prized possession and they worked around him for a good upgrade.
Free Agent Signings
The free agent signings of Tremaine Edmunds and T.J. Edwards was a bold step that the Bears leaned towards readily. Their aim of bringing new players was to help develop Justin Fields in every way. They wanted to bring in key talent which they planned to do so by trading for DJ Moore. Riley Reiff was a pretty big loss but it was for the better considering his progress and performance. Bringing in Darnell Wright in his place is a good upgrade for the team for now. Losing David Montgomery was also not easy but Roschon Johnson and D'Onta Foreman might just fill his position. A strong draft that fulfilled important needs may just be the help the Bears need for the long run.
Prognosis
For the upcoming season, rankings place the Chicago Bears 22nd overall, keeping in mind the great investments that have been put in the team this time around. With Justin Fields as the center of attention, the supporting cast are exactly what he needs around him. He must be at the top of his game throughout the entire season. The bears did however not focus much on the defensive line and we hope that does not hurt the team in any way. Fans are eager to witness what this new and improved roster is capable of bringing to the field and if it is just enough to have a chance at succeeding at a breakthrough.
Chicago Bears Betting Odds
– Odds from BetUS.com
Will the Bears Make the Playoffs
No -180
Yes +150
Chicago Bears Total Wins
Over 7.5 (-130)
Under 7.5 (+100)
Odds to Win NFC North Division
+350
Chicago Bears to Win the Super Bowl
+5000