How Baseball's New Pitch Clock Is Working Out
July 28, 2023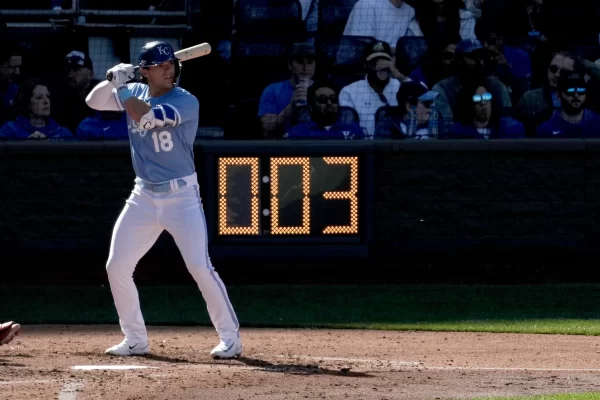 After a number of years of enduring three-hour-plus baseball games, MLB finally instituted a pitch clock. It was tested in a variety of minor leagues and it is now here in 2023 in MLB.
How's it going so far?
The Pitch Clock Itself
If you don't know, the MLB pitch clock sets the amount of time a pitcher can take between pitches. When there are no runners on base, a pitcher has 15 seconds to throw his next pitch. With runners on base, he is given 20 seconds.
The pitcher must be in his windup prior to the pitch clock expiring. Any violation of the pitch clock is an automatic ball. Hitters must be in the batter's box with no less than eight seconds remaining on the pitch clock. A violation by a hitter results in an automatic called strike.
There are some other nuances involved, but those are the basics. Of course, the pitch clock has created plenty of buzz around the league and with fans everywhere.
Baseball Purists
Old-school baseball purists hate the pitch clock. The game, they say, was meant to be played at whatever pace a game takes. Baseball has never been played with a clock. It was never meant to and, as such, should never use one to limit play.
The pitch clock does take away some of the mind games that pitchers were able to use against hitters. That is a valuable piece of the game for the hardcore baseball purist. 
Many also argue that games are now too fast. While three-and-a-half hours is definitely too long for a MLB game, 2:03 might be a bit too short. 
Scoring Is Up
MLB games are averaging 9.1 runs per game compared to 8.5 last season. What's interesting is that MLB games in 2021 also averaged 9.1 runs per game. After taking a dip last season, the numbers are back up. However, is the scoring spike related to the new pitch clock?
The top-scoring team in MLB in 2022 was the Los Angeles Dodgers. They averaged 5.17 runs a game last season. This season, the Texas Rangers are No. 1 and have been for most of the season. Currently, they average 5.83 runs per game. Six teams average at least 5.00 runs per game. Last year, it was just the Dodgers above 5.00.
Effect on Pitching
A look at pitching numbers yields some insight as well. The biggest impact of the pitch clock has almost certainly affected starting pitchers more than anyone. 
In 2022, the Dodgers also led the majors in team ERA. LA's pitchers had a collective 2.82 ERA. Houston's staff was second at 2.84. In 2021, the Dodgers were No. 1 again with a team ERA of 3.02. Even in the shortened 2020 MLB season, the league-leading Dodgers recorded a 3.11 ERA.
The point here is that team ERA numbers have hovered around 3.00 for the best pitching staffs in baseball. In 2023 with the new pitch clock, Tampa Bay has the top pitching staff in MLB based on ERA. The Rays have a collective ERA of 3.70. 
Pitch Clock & Injuries
One of the arguments against the use of the pitch clock was that it would lead to injuries among pitchers. There's no correlation between the two and it's revealed in the numbers.
In 2021, there was a spike in pitcher injuries and through the first 75 days of the season, there had been 195 injured list placements. The number went down in 2022 to 157. Interestingly, the number went down again this year (146).
What's interesting is that average fastball and breaking ball velocity is up this year compared to 2022. The average fastball through the first 75 days of the season last year was 93.8 mph. This year, it was 94.0. Breaking ball velocity is up from 82.6 mph to 83.0 mph.
Those numbers are actually more indicative of an increase in injuries. The faster these pitchers throw, the greater the amount of torque on the elbow. That can definitely cause more injuries compared to the rest time between pitches.
The pitch clock is definitely speeding up games, cutting about 30 minutes off of a game. It's not going anywhere anytime soon. We'll need a larger sample size to see its true effect on the game, if any.