What's Next for NFL Running Backs
July 28, 2023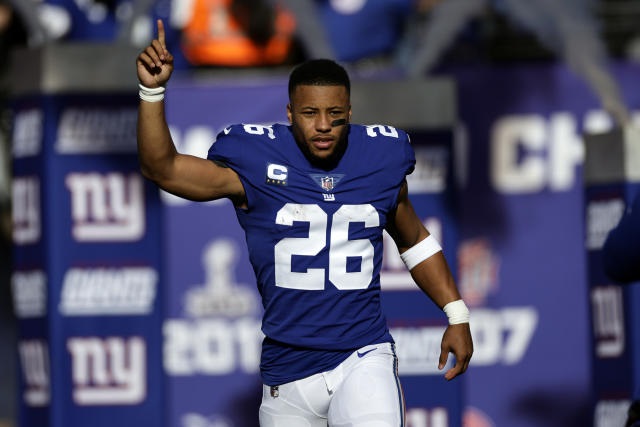 Saquon Barkley just signed a one-year contract with the New York Giants for $11 million. A few days prior, Barkley was on a Zoom call with a Who's Who of NFL running backs – Austin Ekeler, Christian McCaffrey, and Derrick Henry to name a few.
The subject of the Zoom call was the status of running backs in the NFL. Are they getting paid what they are worth? The most intelligent statement made during the call came from Cleveland's Nick Chubb, who has four consecutive 1,000-yard rushing seasons in the league.
"Right now, there's really nothing we can do," said Chubb. Well said for anyone who has taken a basic economics class. The current market for NFL running backs just isn't what it used to be.
Bye Bye 300-Carry RB
When the NFL went to a 16-game schedule in 1978, the 300-carry-per-season running back was common. From 1978 to 2010 – minus the strike years – an average of 6.5 running backs per season carried the ball at least 300 times. In 2006 – not all that long ago – 10 RBs hit the 300 mark.
Between 2011 and 2020, an average of just under two per season hit the 300-carry mark. If not for the addition of a 17th game in 2021 and 2022, there would have been zero the past two seasons. The game has changed.
Passing League
The NFL is a passing league. Gone are the days of running the ball on first and second down and then attempting a downfield pass to pick up a 3rd-and-7. Not all that long ago – 2002 to 2006 – NFL teams were about 50-50 on run-pass on first and second down. Over the past five seasons, those numbers are closer to 55-45 in favor of the pass.
That might not seem like a big deal, but through the course of a game now throws the ball two to four times more per game. That's two to four carries less for running backs.
QBs Can Run
The modern game of football has become one where the quarterback is also a runner. Lamar Jackson, Josh Allen, and even Patrick Mahomes make tons of plays with their feet. That was not the case up until the early 2000s.
From 1951 to 2001, only four times did an NFL quarterback throw 100 passes and rush 100 times in the same season. Quarterbacks running the ball was simply unheard of as recently as 2010. From 2006 to 2010, QBs accounted for 9.6 percent of all rushing yards. That includes kneel downs and scrambles out of the pocket on pass plays. Over the past five NFL seasons, that number is now 14.5 percent. 
With quarterbacks handling some of the running duties, there are fewer carries available for running backs.
Philosophical Shift
NFL teams have now gotten away from the "No. 1 back" thinking. No longer does a team need a No. 1 running back. You can see it in the way teams draft. In the 1980s and '90s, teams drafted running backs in the first round and often those guys produced.
That began to shift when guys like Olandis Gary, Mike Anderson, and Reuben Droughns all had great seasons for the Denver Broncos in the years after Terrell Davis. In the mid-2000s, teams like Houston were doing well with RBs like Steve Slaton and an undrafted Arian Foster.
In 2018, the New England Patriots won another Super Bowl. Of course, Tom Brady led the Patriots offense, but they still ran the ball from time to time. New England spent a whopping $3.28 million in salary for their entire running back room in 2018. Rex Burkhead, James Develin, Sony Michel, and James White were on the Patriots final roster. If you add in Michel's $5 million rookie signing bonus, that's still only a little over $8 million…total!
Final Word
NFL running backs can complain as much as they want, but the bottom line is this. The franchise tag number for a RB in 2023 is $10.1 million. Barkley got $11 million with his new deal. Teams aren't going to pay much more than that, especially when you can 'buy' two or three guys for much less and still have it pay off (2018 Patriots). 
Yes, Bijan Robinson and Jahmyr Gibbs were drafted in the first round this season by the Falcons and Lions, respectively. They are explosive players, but both also excel in the passing game. And, both players are now subjected to the NFL's rookie contract. Robinson's average annual salary (including bonus money) is just about $5.5 million. 
Rookie contracts last four years with an option for a fifth. The average career for an NFL running back? It lasts about 2.57 years. It's sad to say, but running backs are a dime a dozen. NFL teams are in the business of making money and when the market says you only pay a player so much…then you only pay a player so much. Ask Le'Veon Bell how he made out.