NBA Offseason News
August 7, 2023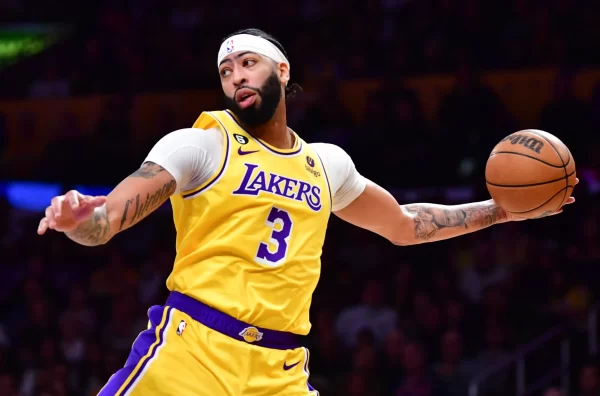 The Los Angeles Lakers made a big move last week, agreeing to a three-year extension with front-court ace Anthony Davis. There was indeed some doubt as to whether he would finish the 2023-24 season with LA. That's no longer an issue. 
He will now remain in Hollywood through 2028, earning in excess of $270 million during that time. His latest extension was worth $186 million, thus the biggest annual salary in the history of the NBA.
LeBron James isn't getting any younger. He will be tasked (with Davis) to lead this team back to another title. LA flamed out the playoffs last season, a loss (via four-game sweep) at the hands of the first-time-champion Denver Nuggets.
Now that Davis has been secured, odds of the Lakers having some postseason success have adjusted accordingly. You still aren't going to see this team as one of the favorites to win the title, but not a toss, either.
LA is listed as the 12-1 (+1200) sixth choice (a tie with the Golden St. Warriors) to win the crown, according to NBA championship odds.
In the Mix
Looking at the odds to win the 2023-24 title, it's no surprise that the Boston Celtics and Denver Nuggets are co-favorites, priced at +500. Denver is the aforementioned defending champ, while the C's are arguably the best team in the East. 
The Milwaukee Bucks and Phoenix Suns are the next on the list, each at +700. You will get 10-1 (+1000) on the Miami Heat as of this writing.
West is Competitive
While the Denver Nuggets are the clear favorites heading into this season, there are other teams worthy of consideration.
The Los Angeles Lakers actually have the third-best odds to win the Western at 11-2 (+550), same as the Golden St. Warriors, as per NBA conference odds. LA trails only the Denver Nuggets and Phoenix Suns on that board. It won't be easy, though, as the Purple and Gold have to contend with the Warriors, Los Angeles Clippers and Sacramento Kings just to  prove they're the best team in California.   
Health of Davis
While the NFL tends to be the pro league with injuries aplenty, basketball isn't immune. Obviously, losing a star player impacts any team, being without a superstar severely shortens that team's season.
Anthony Davis continues to be plagued with foot and ankle issues, but when healthy, is one of the premier players in the league. He's an eight-time All-Star, four-time All-League and four time All-Defensive team. Surprisingly, the MVP odds for Davis are 40-1 (+4000), and that's quite appealing as a longshot.
Davis hasn't been an MVP during his 11-season career, but the Lakers certainly need him to play at that level.