Why is Messi in Miami?
August 9, 2023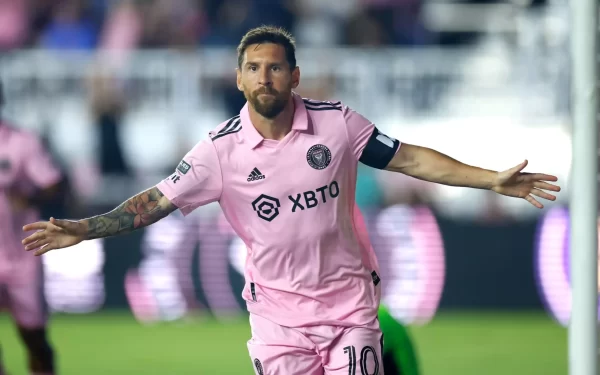 Lionel Messi, one of the greatest players in the history of soccer, is cleaning things up in Miami. Messi, who spent the majority of his professional career in Barcelona, was signed by Inter Miami CF of Major League soccer in mid-July. Things are looking up for a franchise that is in just its fourth season of MLS play. It's amazing what one player can do.
Difference Maker
How much of a difference has Messi made in Miami? Well, before Inter Miami CF entered play in the Leagues Cup, the team was dead last in the MLS East Division with a record of 5-3-14. If not for the Colorado Rapids in the West Division, Miami would be the worst team in MLS.
Since signing Messi on July 15, the team from South Beach hasn't lost. Three Leagues Cup matches; three Leagues Cup wins. Messi was instrumental in all of them. The most recent win, by penalty kicks over Dallas, Messi scored Miami's first goal of the match before Dallas took a 4-2 lead. Messi's assist allowed Miami to tie the match and send it to penalty kicks. Messi hit Miami's first penalty kick as the winners advanced in the tournament scoring 5-3 on penalties.
Messi has now played four matches with Inter Miami CF. He has scored seven goals in total and will lead his club into the Leagues Cup quarterfinals against Charlotte FC on Friday. That will postpone Messi's MLS debut, which now looks like it may be on Aug. 26 against the New York Red Bulls.
Messi to Florida Took Years
As mentioned, Messi spent most of professional career with Barca in Spain. In fact, he holds the records for most goals (474) and assists (192) in La Liga where Barca plays. In 2021, Messi's contract with Barca expired and, facing financial issues, the team could not retain him. Messi would spend two seasons with Paris Saint-Germain, where he would score a total of 32 goals.
Around the same time Messi was getting ready to head to France, Inter Miami CF owner Jorge Mas was attempting to bring him to South Beach. It took a full three years of negotiations and some help from Apple to bring Messi to Florida.
Apple TV+ stepped in to juice the deal by agreeing to release a four-part docuseries on Messi's World Cup journey. He played for Argentina in five World Cups from 2006 to the present. Argentina is the reigning World Cup champion.
Messi's contract with Inter Miami CF will be for somewhere in the neighborhood of $50 to $60 million per season. The contract will be a two-year deal lasting through 2025 with an option for 2026. There is also an ownership stake involved where Messi will become an owner after his playing days end. 
What the Future Holds
It's never certain, but it is likely that Messi ends his career in Miami. He's locked in until 2025 with an option for 2026. Keep in mind that is the year that the U.S., Mexico, and Canada play host to the World Cup. Messi is 36 years old right now. The average retirement age for professional soccer players is 35. Messi appears to be in great shape and in three years he's still under 40. 
He could play out his three years in Miami, play for Argentina and possibly win a second straight World Cup in 2026 (even though he has said he has no plans to play). Would he then walk away into the sunset before his 40th birthday? Only time will tell. He certainly won't need the money. Messi's career earnings are nearly $1.6 billion!