NCAAF Navy-Notre Dame Preview and Pick
August 21, 2023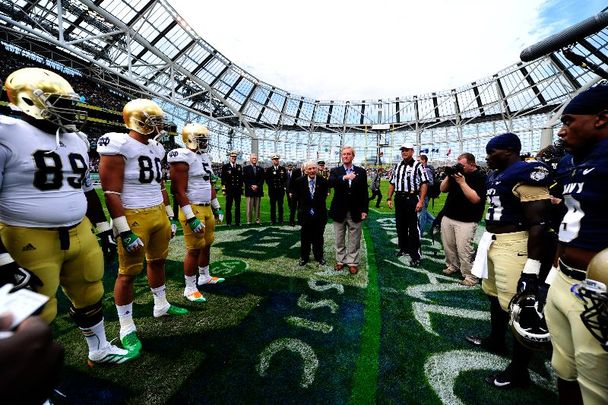 The 2023 college football season begins overseas Saturday afternoon, as the Navy Midshipmen take on the Notre Dame Fighting Irish in Dublin (2:30 PM ET). With the NFL going out of the country the last number of years, now it's the collegiate game taking that route as well. This was originally scheduled to be played in 2020, but the virus stopped that.  
Navy and Notre Dame are no strangers in football. It's an annual game that's dominated by the Fighting Irish to the tune of a 43-game winning streak (before Navy's triple-overtime win in 2007). However, the Middies have played it close on a number of occasions.
Navy will be looking to make it to a bowl game this season under new coach Brian Newberry (former defensive coordinator under the fired Ken Niumatalolo), while No. 13 Notre Dame's goal is to reach the College Football Playoff. You will find out a lot about each team in this one, before the usual amount of overreaction.
Irish by Three (Touchdowns)
With the start of another season, it's thus time to start focusing on the odds. Spread and over/under are always two options, and that's where you'd want to look in this contest.
Notre Dame is a 20½-point favorite over Navy in this opener (total at 50½), according to college football odds. That's not out of the question, considering the expectations at the beginning of the season. Here's a quick look at both sides… 
Run, Navy, Run
It's a new season in Annapolis, but don't expect Navy's (4-8 last season) plan to change. Navy, ranking at or near the top in rush yards per game, wants to run, and run some more. 
Senior Daba Fofana (5-foot-8, but 205 pounds) led the team with 769 ground yards (six touchdowns) last season.
Quarterback Tai Lavatai, who missed part of last season (injured knee), attempted just 91 passes in his eight '22 appearances. It may be Blake Horvath, another option quarterback, getting the nod, 
Defensively, the Midshipmen ranked third against the rush last season, allowing just 88.9 yards per game, Thus, it's the offense which needs to improve if the Middies are to contend. 
Hartman in South Bend
The Notre Dame Fighting Irish, a disappointing 9-4 under rookie coach Marcus Freeman, try to erase the early part of last season. However, it went 6-1 in the last seven. Former Wake Forest quarterback Sam Hartman, seemingly in Winston-Salem forever, takes over what was a very weak position.
Hartman amassed 110 touchdown passes during his Wake career, tops in the history of the Atlantic Coast Conference (38 touchdowns, but a dozen interceptions last season).
Hartman has been known to take shots down the field, though reckless at times.
Returning Audie Estime (920 yards, 11 touchdowns) averaged nearly six yards per carry.
Notre Dame's defense, having allowed 23 points per game in '22, may be a bit susceptible. 
Notre Dame Rolls
Navy-Notre Dame may not be a terribly competitive way to begin the season (regardless of venue), but it's a yardstick to measure both sides.
Navy's projected to win '6½' games this season, or two fewer than Notre Dame, per college football lines.
Navy's new coach (Brian Newberry) did good work as defensive coordinator, and it's the defense that needs to keep the Academy in this game.
It's Sam Hartman's debut as Irish quarterback. They won't have any trouble covering the spread, and the over goes as well.
Bet on the Fighting Irish -20½, and the over (50½) in the season opener.