2023 Seattle Seahawks Season Preview and Betting Futures
August 22, 2023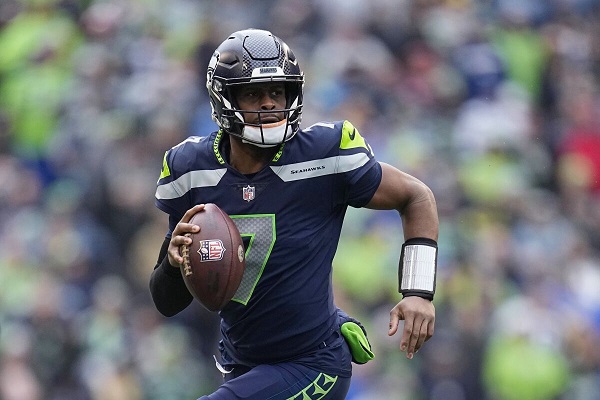 Last season, the Seattle Seahawks proved all the NFL predictions wrong. The majority of talking heads were not expecting the franchise to do well, mainly after they traded their star player, Russell Wilson. The Seahawks surprised everyone with nine wins; hence, this time around, expectations are higher. 
The Optimistic Preview
They might possibly win the Lombardi Trophy as they are NFC's fourth-strongest team—a lot of credit to Geno Smith, whose performance came out of nowhere and astonished everyone. Since 2014, he had not served as a starter, yet he led the NFL in completion percentage, ranked seventh in QBR, and expected points added per dropback. The upcoming season awaits the same, if not better, performance from Smith; PFF's Big Time Throw rate at 5.4%, just behind only Josh Allen and Aaron Rodgers.
DK Metcalf and Tyler Lockett are back, as each of them posted 1000 yards in 2022. Plus, the new kid drafted in the first round, Jaxon Smith-Njigba, looks like a promising addition. Even though Kenneth Walker III was a hit in his first season, he needs to show more consistency. Some help from the second-year offensive tackles, Charles Cross and Abraham Lucas, would be suitable for Walker too.
Recently, the franchise has invested a lot in its defensive backfield, and by the season's closure, this could result in the unit being the league's most dominant. Seahawks have Tariq Woolen, who is considered a massive steal from 2022's NFL Draft as he led the company in an interception, on their side with a promising aspirant, Coby Bryant as a slot defender. Moreover, the team chose Devon Witherspoon as the No. 2 corner this year in an effort to improve their pass defense.
As a backup for Jamal Adams, the Seahawks have a decent safety in Quandre Diggs. Considering how competitive NFC is, the Seahawks are behind the Eagles, 49ers, and Cowboys according to the PFN's NFL Power Rankings. However, this team is sure to give tough competition.
The Pessimistic Preview 
There could be potential risks to the campaign as the possibility of Smith not being able to continue the form he had in 2022. To put a cherry on top, the team management did not draft another quarterback this year, even when they had C.J. Stroud or Anthony Richardson as options. Now, if Smith fails to deliver, the team will have to start from scratch. Also, they will have to end up at the bottom to secure the top picks in next year's draft so that they can pick from the best.
The other weak link is their interior offensive line. Nevertheless, the left guard, Damien Lewis, is good enough. However, the right guard – Phil Haynes- and the center – Evan Brown- seem problematic. Haynes, in 2022, showed off some talent, but his complete potential is unknown. Brown, on the other hand, gave up 22 pressures last year. Furthermore, Seattle could have gone with an interior blocker like John Michael Schmitz or OCyrus Torrence rather than Charbonnet. This way, their offseason could have looked even more impressive. 
2023 Seahawks Betting Odds
by BetOnline.ag
Division Champs +200
NFC Champs +1000
Super Bowl Champs +2800
Total Wins Over-Under 8.5