NCAAF LSU Tigers vs. FSU Seminoles FREE PICK
September 1, 2023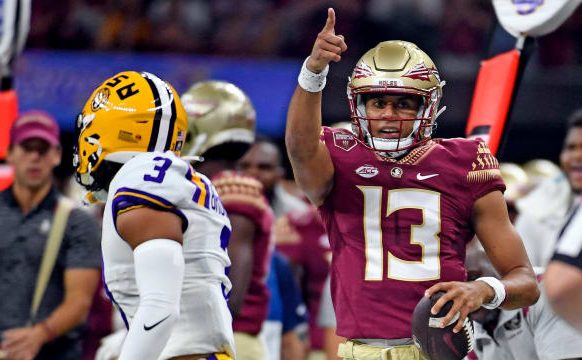 It's not easy finding a better Week 1 college football game than LSU-FSU, with the No. 5 Tigers and No. 8 Seminoles meeting in Orlando Sunday night. It was the 'Noles winning, 24-23, last season.
There's been a growing trend in recent seasons to have a top-10 pairing in the early part of the season, and while this SEC-ACC game doesn't count in conference standings, it will impact the College Football Playoff race, at least early.
Tigers Tepid Faves
Louisiana St. is a slim two-point favorite, according to college football odds. Over=under is set at 56, while the moneyline has Tigers at -130, Seminoles at +110.
Tigers are Defensive
LSU finished the 2022 season with a record of 10-4, and the Tigers may have been better than that.  It's the objective to present a better unit on offense, which is led by senior quarterback Jayden Daniels (2,913 yards, 17 touchdowns in 2022).
There are pro prospects throughout the defense of the Tigers, but especially on the line. LSU will be without (suspended) tackle Maason Smith here, however.
Seminoles are Explosive 
Florida St., 10-3 a season ago (35.2 points/game), boasts one of the marquee players in the country in quarterback Jordan Travis (3,214 pass yards, 24 touchdowns last season). Travis has a big arm, while also sufficiently mobile to make plays with his legs.
Johnny Wilson (43 catches, 897 yards, five touchdowns in '22) leads the receivers.
Revenge in Orlando
There's no doubt the Seminoles can score with the best of them, but the defense is iffy.Looking at the end game, LSU is 12-1 (+1200) to win the title, FSU at 20-1 (+2000), as per college football championship odds.
LSU will get its revenge this time around, defensively a bit better than the offense of the 'Noles. Take LSU -2, plus the under here.