Jacksonville Jaguars 2023 Season Preview & Odds
September 2, 2023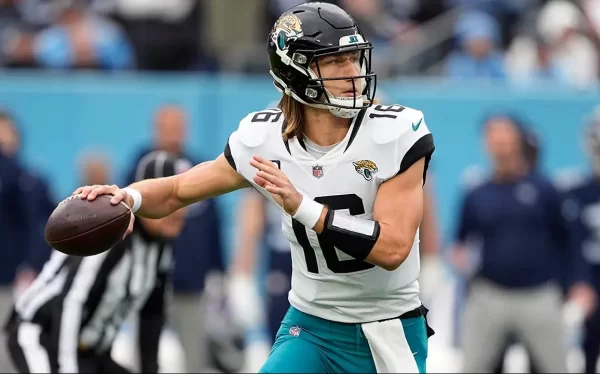 The Jacksonville Jaguars had an eventful season to say the least. They did pretty terrible in the first half of the season just like every other young team with a new staff and players. By Week 11 they were 3-7 and fans had lost most of their hope. Both sides of the ball seemed to be struggling quite a lot. The offense, along with quarterback Trevor Lawrence, weren't doing as well as they needed to and the defense wasn't much better. When either one did slightly better, the other failed and it continued this way until the bye week. To everyone's surprise, they suddenly turned the season around and made a comeback in the second half. The offense began to make major moves and the defense improved as well. They won the division against the Titans in Week 18. A 31-30 Wild Card round win against the Chargers followed but their loss against the Chiefs marked the end of their season. They weren't sad about the loss because they knew it was the start of something huge.
The Jaguars are coming off a very successful season with all the potential to do even better in the upcoming one. Head coach Doug Pederson helped them peak and surely has a lot more up his sleeve.
The 2022 season made plans clear for the offseason. Lawrence was to become the franchise quarterback and Travis Etienne and Christian Kirk were stars for the long run. The defense was also top tier with linebackers Devin Lloyd and Foyesade Oluokun along with cornerback Darius Williams. They were definitely here to stay.
Their offseason couldn't have been too bold after spending almost $260 million on signings last year. They had quite a few financial limitations and did their best to work around it. They did decide to make the big move of bringing in Calvin Ridley. He had previously been suspended for violating the league's gambling policy but is now allowed to start playing again. They got him in exchange for a 2023 fifth round pick and conditional 2024 pick so he really needs to show what he's capable of.
The Jaguars didn't have a great free agency. They had to say goodbye to defender Arden Key, now with the Titans, and tackle Jawaan Taylor, who signed a contract with the Chiefs. Apart from that the only big addition they made was Brandon McManus, who signed a one-year deal. Their 2023 NFL Draft went quite similar to free agency. Fans weren't exactly happy with Brenton Strange, Tank Bigsby and Anton Harrison as the team's top 100 picks. Their roster did do great last time but they still used the offseason as much as they could to make any necessary changes.
The Jacksonville Jaguars are a force entering the upcoming 2023 season. They aim to do a lot better than last time and it will be exciting to see what they have planned. They are all set to win the AFC South once again and emerge victorious in every way.
 2023 Jaguars Betting Odds
from SportsBetting.ag
Division -175
Conference +1200
Super Bowl +2800
Total wins over under 9.5 wins
Analysis: Tough call on which Jags team we will see in 2023. Will they jump up and continue their successful momentum? Or will they falter and disappoint? Hard to tell. 9.5 wins seems like the perfect over-under.