NCAAF No. 25 Iowa at Iowa St. Free Picks
September 5, 2023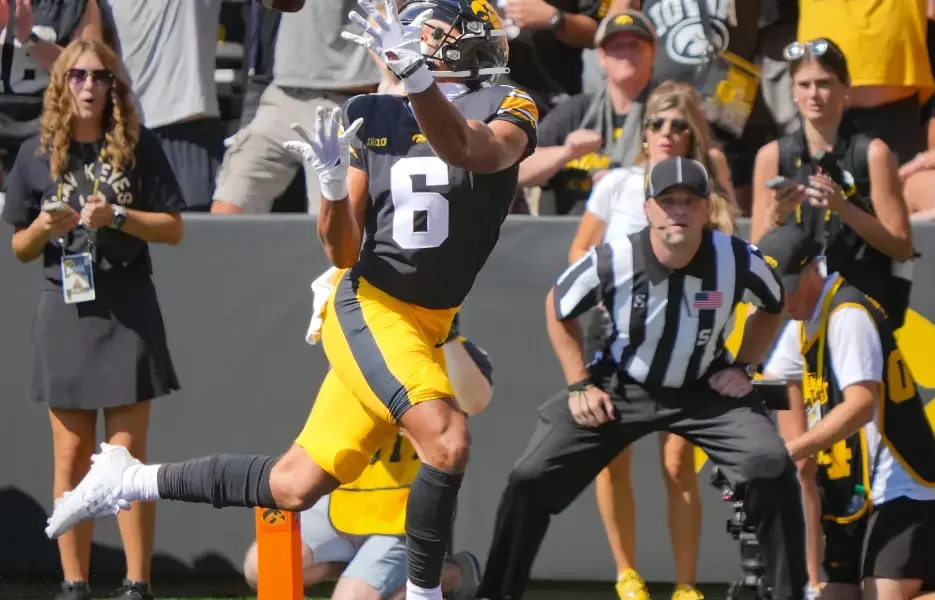 It's "Cy-Hawk," the annual rivalry game between the Cy-clones of Iowa St. and the Hawk-eyes of Iowa. In a series dating to 1894, Iowa has won two of every three games (46-23), though Iowa St. was a 10-7 winner on the road at Iowa City last season.
It's at Ames this time round, with Saturday kickoff at 3:30 PM ET. 
So, after investigation-filled off-seasons, both were opening-week winners, taking some momentum in this contest. 
Iowa comes into this game at No. 25, contending to win the Big Ten West. The Hawkeyes earned a 24-14 home win over Utah St. in their opener, offering some offense in the process.
Iowa St, disposed of Northern Iowa, 30-9, in its opener.
Visitors are Favored
Iowa is a four-point choice in this game (total of just 36), according to college football odds.
Iowa is -180 on the moneyline, while the Cyclones are at +155.
Better Iowa Offense 
The Iowa Hawkeyes typically do the bulk of their work on the ground, but did gain nearly 200 yards (196 to be exact) in the opener against the Utah St. Aggies.
Cade McNamara is the quarterback, throwing a pair of touchdown passes while also taking care of the ball. Iowa's struggled offensively in recent versions of this game, but McNamara changes things a bit.
Iowa surrendered 329 against Utah St., so a tighter effort here wouldn't be a bad thing.
If you think there is more than just Michigan and Ohio St., Iowa is 12-1 (+1200) to win the title, as per Big Ten conference odds.
Run, "Cy," Run
Iowa St. had 134 rushing yards in the season opener against a subpar Northern Iowa squad, and they have to stick to that game plan in this one.
It was Rocco Becht making the start at quarterback, that after former quarterback Hunter Dekkers lost his eligibility due to gambling infractions. Becht was 10-of-13 (113 yards).
This version of the Cyclones aren't going to score in a hurry (hence the miniscule over/under of 36), relying on defense and shrinking the game to gain an advantage.
While Iowa seems to have a better passing game than in past seasons, Iowa St. needs to contain the run first to have designs on winning this game.
"Cy-Hawk" to Hawkeyes
Iowa St. is hosting the 2023 version of this rivalry. so that's something, The Cyclones won in Iowa City last season, so that's something else.
However, Iowa is the better team, appearing a more potent offense than in past seasons. There won't be a blowout because of the aforementioned limitations here, but the Iowa Hawkeyes (-4) are taken to reclaim the Cy-Hawk Trophy.
The under (36) is also our endorsement.