Steelers Seek Redemption vs Browns – Free Pick
September 16, 2023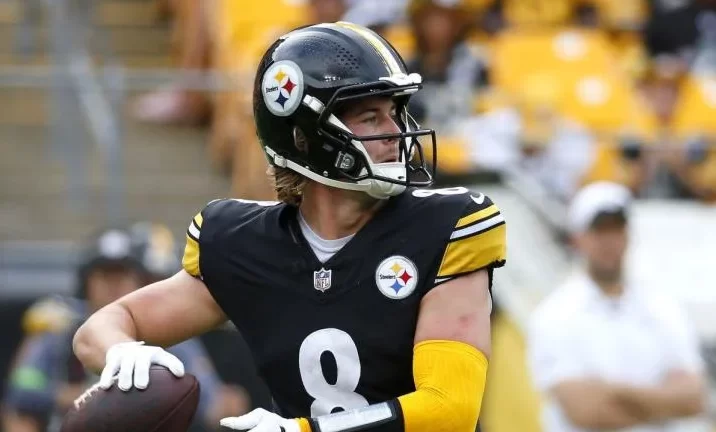 The Pittsburgh Steelers are entering Week 2 with a strong sense of urgency, determined to recover from their Week 1 loss to the San Francisco 49ers. They have an extra day to prepare for their upcoming clash with the Cleveland Browns, aiming to avoid a winless start to the 2023 NFL season. In contrast, the Browns began their season impressively, defeating the Cincinnati Bengals in Week 1, which surprised many NFL enthusiasts.
Steelers Seek Redemption as Browns Surge with Favorable Odds in Week 2 Clash
While the Browns are riding high with momentum and favorable odds, the Steelers are focused on putting their disappointing Week 1 performance behind them. They suffered a resounding 30-7 loss to the 49ers and are eager to turn things around in Week 2. The Browns, led by quarterback Deshaun Watson, possess a talented roster, featuring a strong defense and standout running back Nick Chubb. Watson not only displays his on-field skills but also fosters unity and confidence within the team, instilling belief in his teammates.
This matchup is made more intriguing by the fact that the Browns are favored by 1.5 points on the road against the Steelers. This is a significant departure from historical odds and marks the first time in modern franchise history that the Browns hold such a favorable position when playing away in Pittsburgh. The Browns have an opportunity to achieve a 2-0 start, a feat they haven't accomplished since 1993, igniting hopes of a successful playoff campaign among both the team and their dedicated fan base.
Monday Night Football Clash: Steelers and Browns Renew Rivalry with History on the Line
In this highly anticipated AFC North showdown, the Pittsburgh Steelers are preparing to face off against the Cleveland Browns on Monday Night Football at Acrisure Stadium. This marks the second meeting between second-year quarterback Kenny Pickett and the Browns. Their first encounter occurred during Week 18 of the 2022 season, where Pickett secured a win despite a subpar performance, completing only 44.8% of his pass attempts for 195 yards and a touchdown to wide receiver George Pickens.
When reviewing their performance in Week 1, the Steelers encountered difficulties on both the offensive and defensive fronts. They had multiple 3-and-out possessions and suffered an early interception. Defensively, they struggled to contain Christian McCaffrey, allowing over 150 rushing yards and enabling the 49ers to establish a commanding 27-7 lead. In contrast, the Browns' defense showcased its prowess in their Week 1 triumph against the Bengals. They held Cincinnati to just three points, restricted them to a mere six first downs, and effectively stifled quarterback Joe Burrow, who managed only 82 passing yards.
Steelers and Browns: Protecting the Quarterback in the Spotlight for Week 2 Clash
However, the Steelers face the significant challenge of protecting their quarterback, given their Week 1 vulnerability, where they allowed five sacks, albeit against a formidable pass rush. The Browns, featuring defensive playmakers like Myles Garrett, present a similar threat to opposing quarterbacks. While the Steelers' Week 1 performance was disappointing, it is essential not to rush to judgment based on a single game. The Steelers began the season with elevated expectations, with Kenny Pickett showing promise as their quarterback and a defense led by T.J. Watt.
Anticipating this upcoming clash, the Browns' imposing defensive front, led by Myles Garrett and Za'Darius Smith, presents a substantial hurdle for the Steelers' offensive line, which encountered difficulties in Week 1. Offensively, the Browns showcased a formidable rushing game, highlighted by Nick Chubb's standout performance, amassing 106 rushing yards on 18 carries.
Browns vs. Steelers: Monday Night Clash of Playoff Hopefuls
The Cleveland Browns are poised on the verge of a significant 2-0 start to the season, enjoying favorable odds and having the potential to compete for a playoff position. Their Week 1 performance highlighted the strength of their defense, with Myles Garrett leading the charge. In contrast, the Pittsburgh Steelers are determined to bounce back after a disappointing Week 1 showing and prove themselves as a formidable team in their division. With Deshaun Watson leading the Browns and Kenny Pickett guiding the Steelers, this Monday Night Football encounter promises to deliver a competitive and exhilarating spectacle. The Browns' aspirations to secure a playoff spot are buoyed by their robust defense and potent running game, with Nick Chubb playing a pivotal role in their quest for a hard-earned road victory. Simultaneously, the Steelers are resolute in their mission to redeem themselves following a lackluster season start, aiming to recalibrate their trajectory in the AFC North.
Betting odds at BetAnySports.eu 
The Browns have a slight advantage in the betting odds, boasting a -2 ½ point spread, while the Steelers are listed as +2 ½. These odds provide valuable insights for bettors, helping them make informed decisions to maximize their potential earnings. The Steelers laid an egg last week and we have seen nothing on film to make us think they will somehow play much better this Monday Night. The Browns look like they are hitting on all cylinders and should pull out this win. Be sure to check out betanysports.eu/sba/, where you can also take advantage of an appealing promotion offering a 30% CASH bonus.
Spread: Browns -2 ½ (-110) – Steelers +2 ½ (-110)
Money Line: Browns -140 – Steelers +120 
Total: Browns O 38 ½ (-110) – Steelers U 38 ½ (-110)