AFC North Showdown: Ravens vs. Bengals Free Pick Kicks Off Week 11
November 14, 2023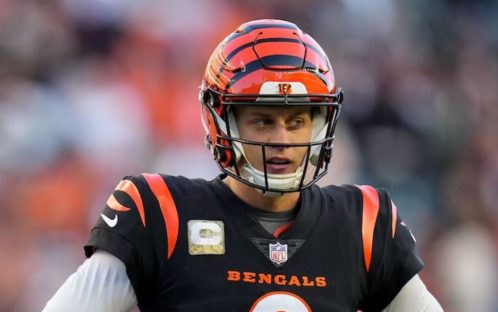 The excitement is palpable as Week 11 of the NFL season commences with a highly anticipated Thursday Night Football clash between the Baltimore Ravens and the Cincinnati Bengals at M&T Bank Stadium. This showdown isn't just a game; it carries significant implications for both teams in the fiercely competitive AFC North.
Standings within the division and current team performance
Leading the division with a 7-3 record, the Ravens found themselves in a tight race with the 6-3 Steelers and Browns. Despite a challenging 33-31 loss to the Browns in their previous game, the Ravens managed to maintain a narrow half-game lead. On the flip side, the Bengals, holding a 5-4 record, trailed the Ravens by a mere 1.5 games. The urgency for a win heightened following their recent 30-27 defeat to the Texans.
Strengths and Strategies
Baltimore's strength resided in their formidable running game, leading the league with an impressive 154.9 rushing yards per game. Quarterback Lamar Jackson and running back Gus Edwards played pivotal roles, with Edwards boasting team-leading stats of 502 rushing yards and eight touchdowns. Their commitment to the running game shone in their Week 2 victory against the Bengals, securing a 27-24 win with a dominant 178 rushing yards.
On the flip side, the Bengals are positioned at the league's bottom in rushing, ranking last in both rushing yards and attempts. Despite holding a 5-4 record, the team faced criticism for questionable play-calling and a perceived lack of support for quarterback Joe Burrow. Meanwhile, the Ravens' defense has proven formidable, securing the second-best ranking in the league by allowing only 273.6 yards per game. Their well-rounded performance extends to scoring, placing fifth in scoring offense (27 points per game) and claiming the top spot in scoring defense (15.7 points allowed per game).
Offensive and defensive effectiveness
While the Ravens' offensive passing yards rank 20th, their defensive strength is evident in allowing the fewest passing yards per game. The game is marked by efficiency, with a 44.1% third-down conversion rate on offense and a 36.4% rate on defense. Positioned 10th in turnover margin, the Ravens have forced 15 turnovers while committing 14.
Conversely, the Bengals encounter challenges in total yards per game (301.7) and defensive struggles, yielding 384 total yards per contest. Offensively, they generate 20.2 points per game, while defensively allowing 21.3 points per game. In passing, the Bengals rank 16th offensively and 24th defensively. Struggles persist in rushing, ranking worst in yards per game and third-worst in yards surrendered.
Turnover Margin and Redemption Quest
Despite statistical prowess, the Bengals possessed the best turnover margin in the league (+10), forcing 18 turnovers while committing only 10. However, defensive deficiencies were evident in their yards per pass and rush allowed. Both teams entered the clash with a shared goal of redemption – the Ravens seeking to recover from their loss to the Browns and solidify their division lead, while the Bengals aimed to stay competitive in the AFC North race despite their recent loss to the Texans.
Injuries and Player Updates
Injuries loom large as key players on both teams face potential absences. Cincinnati's Sam Hubbard, Trey Hendrickson, Tee Higgins, and Andrei Iosivas dealt with various injuries, raising concerns about their availability. 
For the Ravens, left tackle Ronnie Stanley, linebacker Trenton Simpson, and cornerback Marlon Humphrey missed practice due to knee, concussion, and calf issues, respectively. Linebacker Kyle Van Noy and cornerback Daryl Worley were limited in practice, dealing with groin and hamstring injuries.
Odds at BetAnySports.eu – Free Pick
Be sure to visit betanysports.eu/sba/ and claim a 30% CASH BONUS or 135% FREE PLAY on your deposit. Because of injuries and the Bengals need and desire to get back on track we are taking Cincy plus the points here. Cincinnati has also bounced back quite well, going 9-4-1 ATS in their last 14 games following a loss. Early bettors have placed 63% of the spread action on the Bengals. Take Cincy +3.5 and remember that that half point is key. 
Spread: Bengals +3 ½ (-110) – Ravens -3 ½ (-110)
Money line: Bengals +165 – Ravens -190