Key Injuries in Week 10 of the 2023 NFL Season
November 15, 2023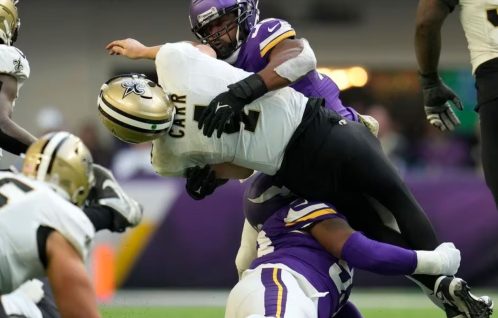 Injuries are a big part of the NFL season and Week 10 wasn't any different. Every game involved players having to exit the field for one reason or the other but at the end of the day, that's what keeps it interesting. These injuries will definitely alter the course of events for the respective teams in the upcoming weeks. Here is a roundup of a few injuries we got to witness this past weekend:
The New Orleans Saints quarterback Derek Carr left the game against the Minnesota Vikings during the third quarter due to injuries he sustained after being hit by the opposition's pass rusher Danielle Hunter. He moved straight to the locker room and was later ruled out. Head coach Dennis Allen later revealed that the player suffered a right shoulder injury as well as concussion. Carr said he hopes to play versus Atlanta, according to Ian Rapoport of NFL Network.
The quarterback for the Tampa Bay Buccaneers suffered an injury to his right thumb during the fourth quarter of the game against the Tennessee Titans. He did finish the game but was seen shaking his hand multiple times due to pain. He reported after the game that his thumb was feeling good and tests later revealed that there was no damage. He is not expected to miss any time in the upcoming weeks.
The Minnesota Vikings running back left the game against the New Orleans Saints in the last minute of the third quarter after taking quite a big hit. He was able to walk on his own and went straight to the medical tent where he was announced out with a concussion. It is still uncertain whether or not the player will be able to return for the upcoming week. With Cam Akers already out, Mattison's injury will cause quite a few problems for the team in the future.
The Baltimore Ravens offensive tackle Ronnie Stanley went down with a knee injury in the fourth quarter of the game against the Cleveland Browns. His right leg was rolled up and the player was in a lot of pain. He was able to stand up eventually and limped to the sidelines. There are still no updates from the team regarding his condition and whether or not he will be able to return to the field for the next game.
Fans are heartbroken over the injuries of some of their favorite players but it also has them eagerly anticipating what the future holds for teams. Hopefully, the players will be able to recover and return to the field soon. All these ups and downs are what make the NFL season interesting and the next few weeks will be filled with even more excitement and commotion.