NFL Defensive Player of the Year Odds and Upset 45/1 Pick
November 15, 2023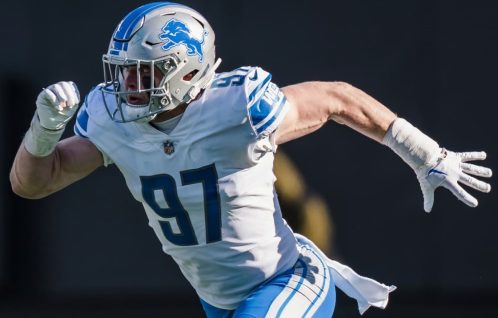 The defensive player of the year is the top award any player can get on the defensive side of the ball. Defense used to be sort-of an unsung aspect of football but it no longer is. Defensive players make comparable money to most of the offense players and receive many accolades as well. One cannot help but think of Aaron Donald when revisiting the year the Rams won the Super Bowl.
NFL DPoY Last Ten Years
The last ten season winners list looks like this
DE Nick Bosa – 49ers
DE TJ Watt – Steelers
DT Aaron Donald – Rams
CB Stephon Gilmore – Patriots
DT Aaron Donald – Rams
DT Aaron Donald – Rams
LB Khalil Mack – Raiders
DE JJ Watt – Texans
DE JJ Watt – Texans
LB Luke Kuechly – Panthers
Seven of the last ten years winner was from the defensive line. The NFL places a premium of sackers of quarterbacks, there is no doubt about it. Defensive Ends see more sacks than any other position. So, by that logic, you will see Defensive Ends be favored to win it most years. 2023 is no different.
At the top of the list, the first seven players favored to win it all are Defensive Ends. In fact, all but two players on the list play on the line. The other two players are linebackers. There are currently no defensive backs on the oddslist to win Defensive Player of the Year.
2023 NFL Defensive Player of the Year Odds
Odds by BetOnline
Myles Garrett +120
T.J. Watt +250
Micah Parsons +260
Nick Bosa +2500
Maxx Crosby +2800
Danielle Hunter +4500
Aidan Hutchinson +5000
Chris Jones +5000
Josh Allen +5000
Haason Reddick +5500
Fred Warner +5500
Upset pick to win it all
The overall favorite, Myles Garrett, has 11 sacks at the time of this publication. But so does DE Danielle Hunter from Minnesota (although Hunter has played one more game). They co-lead the league in sacks. Not only that, Hunter has 20 more tackles than Garrett, which means he not only gets sacks but he stops the run.
Sometimes a player is favored because of his overall success is reflected by the team's success. But in this case, both the Vikings and the Browns have six wins on the season and I would argue that Hunter's contribution has been slightly greater to his team than Garrett's (3 forced fumbles compared to Garrett's 2). The only thing working against this pick is the fact that the NFL and its media "wants" to give it to Garrett. This is the political side of football. Yes, Garrett will most likely win it but at +125 it is definitely not worth the investment. Take a good underdog and let it ride.