Miami Dolphins vs. Las Vegas Raiders Preview and Pick
November 17, 2023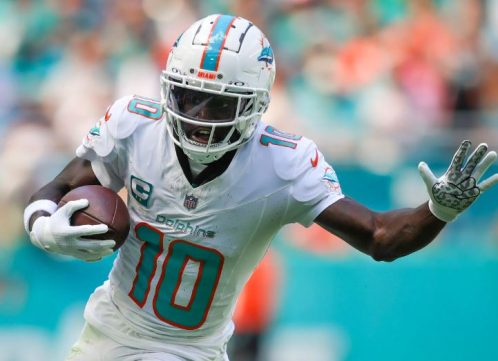 In a highly anticipated Week 11 matchup, the Miami Dolphins (6-3) are all set to collide with the Las Vegas Raiders (5-5) in what promises to be a nerve wracking clash with playoff implications on the line. As both teams look to solidify their standing in the regular NFL season, this Sunday showdown is a must-watch for fans. BetUS.com currently has the line Miami -13.5 and the total resting at 46.5
Miami Dolphins 
With an outstanding 6-3 record, the Miami Dolphins are emerging as a force in the league, showcasing great performances led by a very skilled roster. Positioned quite strongly in their division, the Dolphins seek to solidify their standing further.
In Week 9's clash against the Kansas City Chiefs, the Dolphins faced a 21-14 loss, falling short of a second-half comeback.
Despite offensive struggles, including a delayed third-down conversion and challenges for quarterback Tua Tagovailoa in connecting with receivers, there were some positives too as well. Raheem Mostert's explosive gains and a late-game 31-yard touchdown catch by Cedrick Wilson Jr. are a few of the highlights from Sunday.
Defensively, Bradley Chubb's forced fumble on a sack and a second-half shutout against the Chiefs displayed great skill and ability. Chubb, with a total of four forced fumbles and a team-leading 6.0 sacks, currently leads the team. Jaelan Phillips is also not far behind, extending his sack streak to three games, displaying great defensive strength. 
Despite the setback, the Dolphins showcased promise on both ends of the field and they will do anything to succeed in the upcoming week.
Las Vegas Raiders 
The Las Vegas Raiders, currently standing at 5-5, are determined in their mission to reverse recent setbacks and regain their position among the league's elite. Coming with a talented roster and a hunger for victory, the Raiders aim to show what they are truly capable of.
In the decisive Week 10 clash against the New York Jets, the Raiders secured a 16-12 victory. Running back Josh Jacobs emerged as a standout performer, finishing with 116 rushing yards on 27 carries, showcasing remarkable talent and skill with an impressive 4.3 yards per carry despite not reaching the end zone. 
On the defensive front, linebacker Robert Spillane earned the title of the game's defensive player, with a pivotal interception in the fourth quarter, seven tackles, and a sack, contributing significantly to the Raiders' triumph that day. Rookie quarterback Aidan O'Connell completed 16 of 27 passes for 153 yards, including one passing touchdown and a single interception.
The Raiders' team effort showcased their ability to excel on both offensive and defensive fronts, proving that they have all the potential to win their upcoming game.
What to look forward to in Week 11 
With the playoff race heating up, every game becomes crucial for these two teams. The Dolphins are heading into this clash as favorites, and aiming to continue to lead in the AFC East and secure a comfortable playoff berth. On the other side, the Raiders, are looking to gain ground in the AFC West and push for first place for postseason contention. 
Las Vegas is 1-6-1 ATS in its last 8 games when playing Miami and Miami is 5-0 ATS in its last 5 games at home. There is no reason in my eyes that Miami shouldn't be the pick here.