A Look at the Numbers in Golden State vs Oklahoma City Showdown
February 27, 2016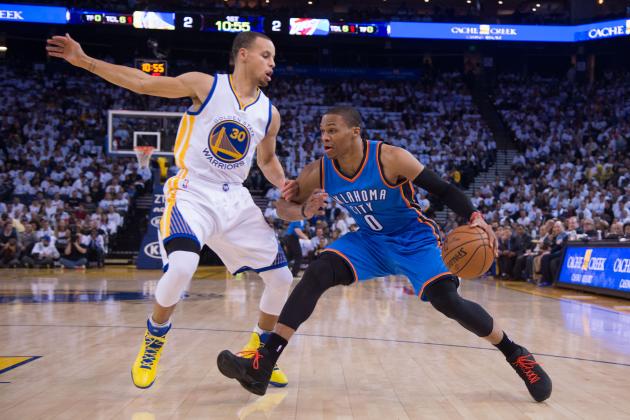 The NBA season is winding its way to an end with only 20 games or fewer remaining for each team. On Saturday, two of the top three teams in the Western Conference go head to head when the Golden State Warriors the No. 1 seed visit the No. 3 Oklahoma City Thunder.
Here is a look inside the numbers at this game.
Oklahoma will have to slow down the attack of Golden State, which no other team has been successful at. The Warriors are 52-5 straight up and 31-23-3 against the spread, while OKC is 41-17 SU ad 23-34-1 ATS.
Golden State is a 3-point favorite on the road and it is hard not to like their chances.
Of the nine times Golden State has been a favorite on the road by six points or less the Warriors are 8-1 SU and 6-2-1 ATS. The lone loss was against Dallas with Stephen Curry out injured.
Only five times has OKC been a dog this season and never at home. As a dog, the Thunder is 1-4 SU and 1-3-1 ATS.
One of the four losses, one was to Golden State a couple of weeks ago prior to Super Bowl 50. The Warriors were home favorites by 8 points with Golden State winning 116-108 for a push.
Most basketball pundits have the Western Conference down to a race of three teams with these two and San Antonio leading the way. However, with Golden State at 52-5 and San Antonio at 48-9, they seem to be a notch above even the Thunder.
Oklahoma is just 15-13 when its plays against teams that are better than .500 on the season and 26-4 against everyone else.
On the other hand, Golden State is 27-3 while San Antonio is 19-7 against teams with winning records and even in the East Cleveland at 18-13 and Toronto at 19-9 have been successful against teams above .500.
The point total for this matchup is the season's highest thus far at 234. In their last game, the number was 233.5 and cashed under. However, 132 points were scored in the first half alone, with Golden State pulling off the throttle in the second.
The OVER in the league was 38-21 since the return from the All-Star Game, but on Friday was 6-2.
Lean toward Golden State here.