A+ Rated Sportsbook BetOnline and Their Current Bonus Offer
October 13, 2016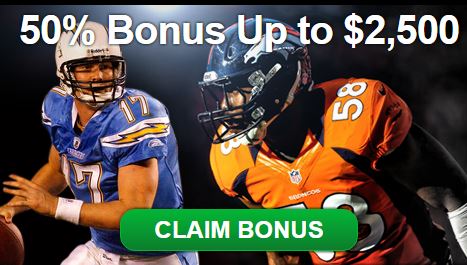 One of the best sportsbooks to throw down online is BetOnline. They have been around for over a decade and have a squeaky clean record. They pay winners bottom line.
They are currently offering this 50% Sports Bonus:
NFL Week 6 kicks-off today with an AFC West showdown between the Broncos and Chargers. The college football schedule is loaded with must-bet games, including Alabama at Tennessee and Ohio State at Wisconsin. The MLB Playoffs are heating up. In other words, there is no better time than now to Activate your BetOnline.ag account and score your 50% Welcome Bonus. Make sure to use the links in this article for proper referral.
Simply use promo code NFL16 when you deposit as little as $50 and your 50% Bonus will be added to your bankroll instantly. To get the most bang for your buck, you can claim up to $2,500 from this one single deposit. (Terms and Conditions Apply)
Is Poker your thing?
100% Poker Bonus
Double-up your Poker bankroll before you even see your first hand by earning a 100% Poker Bonus when you make your initial deposit. After you deposit, email [email protected] with the subject line NEWBOL and your username in the body of the email and we will take care of the rest. To maximize your poker bankroll, you can get up to a $2,500 Bonus!*