Alabama's Grip at Top of Futures Board Beginning to Slip
October 4, 2016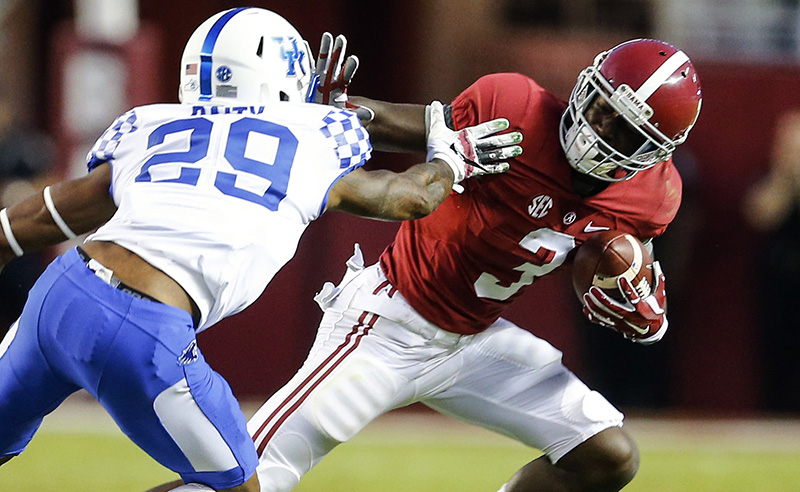 Online sportsbooks have been feverishly reviewing and adjusting their college football futures boards weekly as the season progresses. After the first five weeks of the regular season, sportsbooks still have the Alabama Crimson Tide at the top of the board where they started the season.
However, the Tide's grip on the top spot seems to be slipping just slightly in the eyes of odds makers. At this time, Alabama is sitting at 3 to 1 to win the national championship after starting its season 5-0. The Tide is winning its games by a margin of 31 points a game.
Nonetheless, its lead atop the futures board has been tightened by both the Ohio State Buckeyes and Clemson Tigers. Both teams are now just 7 to 2 to win the national title and just off the pace set by Alabama.
Clemson won its first four games, but many started to question if the team was truly a possible national champion as they were last season. The Tigers changed the minds of many with their 42-36 win over Louisville this past weekend.
Moving forward the schedule favors Clemson as well as the only remaining tough game will be against Florida State and that is if FSU can straighten out its own problems.
Ohio State from the start of the season has been dominating. The results in their games have been almost embarrassing for opponents. The Buckeyes have won by a combined 228 to 37 in their four games.
Just the Oklahoma Sooners managed to score over 10 points against the nation's best defense against the score.
Washington has not received the press that many other teams in the top 10 have due to it playing in the Pacific Northwest. Nevertheless, the Huskies pummeled Stanford last Friday night 44-6 and have the fifth shortest odds on the board.
2016-17 COLLEGE FOOTBALL NATIONAL CHAMPION
Alabama        3 to 1
Ohio State    7 to 2
Clemson       7 to 2
Washington  15 to 2
Michigan       10 to 1
Houston        10 to 1
Louisville      10 to 1
Texas A&M   20 to 1
Tennessee   25 to 1
Miami (FL)     33 to 1