Allyoubet.ag Review
September 3, 2013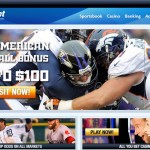 AllYouBet.ag has been voted our top sportsbook going into the fall of 2013. Here is a report of our thorough investigation regarding this top notch sportsbook.
Allyoubet.ag is a sports betting site that covers a variety of sports markets, though the focal point of their betting typically changes with the seasons. The only sport that is noticeably absent from the site's offerings is horse racing, though there do not appear to be complaints on the record about this absent. Allyoubet.ag is particularly popular for its coverage of football, with many users claiming this website is one of the best in the business for this particular service.
The website also features a casino that has a very high reputation with users. Allyoubet.ag offers 24/7 customer service for casino users and many reports note that the customer service representatives are very professional and go out of their way to address any issues that people might have. Review and authentication websites which review gambling platforms note that there are very few complaints against allyoubet.ag, and the few complaints that have come in have been met with an immediate and satisfactory response, further increasing the popularity of this website.
When compared to other sportsbooks, users believe that allyoubet.ag offers much better in-play odds than other, comparable sites. Those that play here regularly earned winnings and reported that the winnings were very easy to process and collect once the process was completed. The website is reported to be very easy to use and users were quickly able to get all of the information they needed to make an informed bet on the team of their choice. The betting is not limited, with a wide selection of teams and players from each sport being made available to players that would like to participate in betting.
Allyoubet.ag is also ranked very highly in security. The website offers a 100 percent security guarantee for those that use these services and personally works to ensure that all personal information users submit to make bets will be kept in a private setting. The security page offers tips for various types of credit cards so users can ensure that all of their personal information is kept private and safe. The security team is also available around the clock for those that would prefer to enter their private information over the phone as opposed to entering numbers online. All direct deposits of winnings are also guaranteed with a great deal of paperwork used to confirm all proceedings.
In addition to offering top of the line gambling options for players, allyoubet.ag works to provide incentives for both new and reoccurring players. There is a large welcome bonus available for those starting a new account which makes it easier to guarantee that the first bet users make will be affordable. This bonus can be collected or applied to a new bet as a means of keeping your personal financial investment low while learning to navigate the site. The site also offers a wide variety of bonuses and promotional offers which are updated regularly. Users of the site are encouraged to check back frequently to get an updated list of these offerings. Allyoubet.ag is rated A+ at Sportsbook Advisor and is our top listed sportsbook.
Note: Downgraded to A- Rating as of August 2014. For our top sportsbooks click here.