Andrew Miller and Kris Bryant Favored to Win World Series MVP
October 25, 2016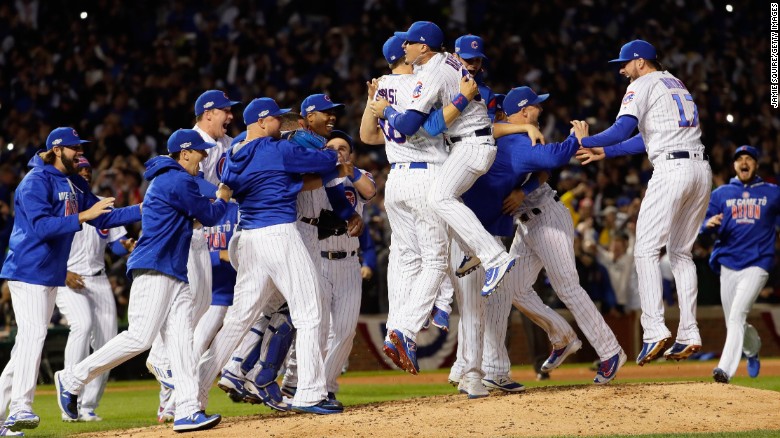 Game 1 of the 2016 World Series will be played Tuesday night in Cleveland between the National League Champion Chicago Cubs and the American League Champion Cleveland Indians.
The Most Valuable Player is one of the top betting props for the Fall Classic. Odds makers have posted a host of players with odds to win the coveted honor of World Series MVP.
The Cubs had a pair of players win co-MVP awards for the NLCS as Javier Baez shared the award with teammate Jon Lester. Baez batted .317 with 5 RBIs, while Lester was 1-0 with an ERA of 1.38 in his two starts against the Los Angeles Dodgers.
Andrew Miller a relief pitcher for Cleveland was named the ALCS MVP. The Indians defeated Toronto in five games to win the AL Pennant. Miller had 14 strikeouts while allowing only 3 hits across 7 2/3 innings of scoreless pitching.
Miller is currently the co-favorite at 6 to 1 to win the MVP of the World Series, with Kris Bryant, the star third baseman for the Cubs. Lester is 8 to 1, while Baez is 10 to 1 to win the award.
Cubs first baseman Anthony Rizzo is also at 10 to 1 to win the award along with teammate Jake Arrieta who will get the start on the mound in Game 2 of the series for Chicago.
The Cubs enter the World Series as the heavy favorite to win the title for the first time in 108 years. Chicago is -190 to win the series, while Cleveland is currently +170.
10 Best Odds to win MVP of the 2016 World Series
Andrew Miller (Indians) 6 to 1
Kris Bryant (Cubs) 6 to 1
Jon Lester (Cubs) 8 to 1
Anthony Rizzo (Cubs) 10 to 1
Jake Arrieta (Cubs) 10 to 1
Javier Baez (Cubs) 10 to 1
Corey Kluber (Indians) 15 to 1
Dexter Fowler (Cubs) 15 to 1
Kyle Hendricks (Cubs) 15 to 1
Addison Russell (Cubs) 18 to 1