Baker Mayfield Draft Odds
April 6, 2018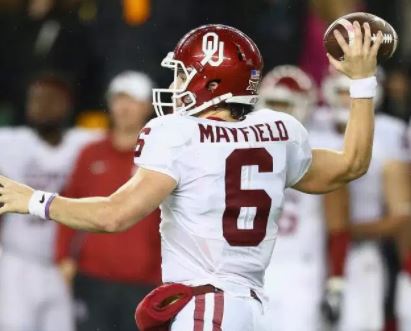 Baker Mayfield is widely considered the best QB in the NFL draft that is taking place at the end of this month. The Oklahoma QB is a Heisman Trophy winner and has racked up some ridiculous stats. He threw for 14,607 yards and 131 TD's. He threw only 30 Int's. For all of Baker Mayfield's stats click here
So, it is no wonder that the betting world has placed odds on where he will be drafted. Your football novice may think to themself "If he is the current Heisman Trophy winner and possibly the best player overall, then why wouldn't he be drafted first no matter what?". Well, the rest of us football fans know the answer to that. The teams that are up at bat first may feel confident in their QB and have other pressing needs.
The Cleveland Browns (a perennial first picker) just acquired Tyrod Taylor. Many think that he is their QB of the future but I personally don't see him being the long-term solution. Behind him is Drew Stanton, Kevin Hogan and Pat Devlin. The Browns would probably do well to draft Baker Mayfield. The oddsmakers disagree. They actually have the Miami Dolphins as favorites to draft Mayfield. The Dolphins have the 11th overall pick so they will have to pull some trade magic to be able to draft Mayfield. There is some evidence that this is already in the works.
The Dolphins had dinner with Mayfield the day night before his pro day. Teams meeting with a player they are interested in is a common occurrence. But, for the 11th team in the draft to meet with him suggests they have designs on moving up. Here are the actual available odds from online sportsbooks
WHICH NFL TEAM WILL DRAFT BAKER MAYFIELD?
Miami Dolphins +400
Cincinnati Bengals +600
Baltimore Ravens +545
Arizona Cardinals +700
Field -350
As you can see, Miami is the favorite at +400. In fact, the field is technically the favorite, but as far as individual team odds, the Miami Dolphins are favored.
The Cincinnati Bengals need QB help as well. They have been at it for a while with Andy Dalton and he has shown some flashes of brilliance but The Bengals realize he will not be able to get the team to the promised land. The Bengals have the 21st overall pick and would have to pull more powerful trade magic than the Miami Dolphins. See draft order here
Perhaps Baker Mayfield already knows where he will be drafted and that is why he will not be attending the draft ceremony, despite pressure from the NFL and ESPN. This theory is a long shot but it is plausible. Teams talk to one another off the record all of the time and Miami has a history of working with the Browns. In fact, they just traded their number one offensive player in Jarvis Landry player to the Browns.