Betonline.ag Sportsbook Review
September 8, 2013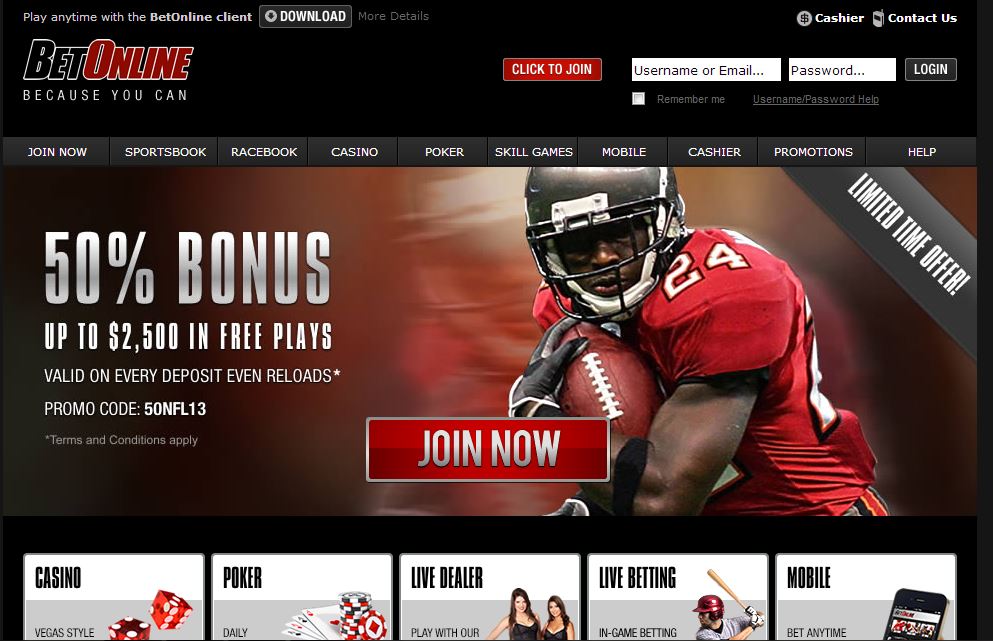 Betonline.ag is a combination sports betting, casino and poker website that welcomes bets at a variety of levels. While the site openly encourages those that would like to bet at high levels, but there are plenty of options for those that are more comfortable at smaller levels too. Betting is considered to be highly secure at this webpage which has convinced many people to get an account here over other popular pages. There have not been complaints about getting payments on time or the rules being fair which has further encouraged people to take on long-term accounts with betonline.ag.
One feature that betonline.ag boasts that most other major sports betting venues do not carry is live betting. Users can put in live bets on a given sport based on the current season, though by far one of the most popular live betting venues is the MLB, NFL and NBA hubs. People that wish to partake in live betting in the casinos can also play alongside live dealers to add to the excitement of the game. All betting and live options are available on the live version of the site so it is easy to participate in offerings from betonline.ag from anywhere you would like to watch the game.
Many people who frequently use online betting platforms claim that betonline.ag has one of the easiest platforms in the market for placing bets and keeping up with their live bets on the website. The design is known for being set up in a practical way so users can get in, get their information and get out without a lot of clutter or extra steps. This translates very well to the mobile version of the page because everything is streamlined and there is very minimal scrolling for those that would like to place their bets on the go.
Betonline.ag works to keep customers coming back by offering plenty of incentives for players, and regular participants have taken notice of this generosity. Free play bonuses are frequently eligible for 25 percent bonuses, which can really add up for people who are playing often. There are also a lot of rollover bonuses that frequent users can compound if they are playing on the site often. Bonuses can be compounded up to $900 at a time, which gives people a great deal of incentive to make consistent bets, which makes the site more popular for newcomers that want to follow a season of their favorite sport.
In addition to offering plenty of incentives to keep betting, betonline.ag also has a very high reputation for making it easy to set up an account. Users consider this webpage to be one of the most successful in the business for taking deposits from customers without incident. They also accept more forms of payments than other websites, allowing VISA, MasterCard and Amex payments. There are a variety of credit card processors so users can work with accounts they already have and make instant deposits to take advantage of the live betting options as easily as possible.
To see current rating of this sportsbook visit our sportsbook review page
To see our top sportsbook list click here