BetOnline Outage Continues
March 19, 2018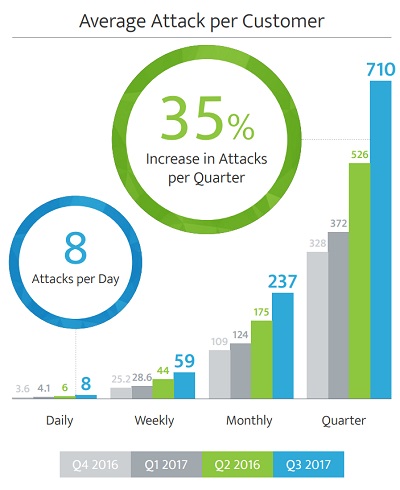 Upon receiving more angry and concerned emails this weekend that BetOnline.ag website is still down, we are prompted to write yet another follow up article. Being an online company ourselves, we hate seeing a company get attacked by hackers and hate to see how much trouble Betonline is having recovering. BetOnline has been an A rated sportsbook since we began SBA in 2007. (image right – statistics provided by Corero internet security on increasing attacks.)
As we approach three weeks of the site being down, we feel we have no choice but to downgrade the sportsbook to B rating. We double checked if the site is still down by using the Down for Everyone Tool and also a website speed testing tool.
The alternative betonline access sites that we have tried all do not work either. When Betonline sorts this issue out and the sportsbook has been up and running for some time we can consider restoring their A rating. As for now customers are not able to access their accounts or money and the amount of time to restore services has been very long.
If you have read anything about the DDOS attack Betonline has been under you know what is going on. There is a great article on the modern DDOS attack that you should read if you wish to know more.