Betting Props for Two New Starting Quarterbacks in NFL Week 7
October 21, 2016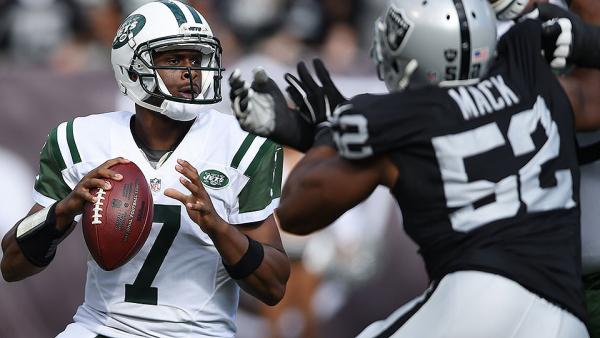 Thanks to poor play and injury, a pair of new quarterbacks will start this week as the quarterback carousal continues to go round and round in the NFL after just six weeks of play.
The New York Jets have benched starting quarterback Ryan Fitzpatrick and replaced him with Geno Smith. The Pittsburgh Steelers will start Landry Jones after Steelers starting signal caller Ben Roethlisberger had Monday knee surgery and will miss a minimum of four weeks.
Anyone is better than Fitzpatrick said some Jets fans following the team's poor play leading up to the quarterback being benched.
Smith has not started any Jets games since he had his jaw broken during a locker room fight with a former teammate, during last season's training camp. Since that time, Smith has entered games on three occasions of which all three could be described as average.
Over his short and unflattering career, Smith has averaged only 185 yards passing per game. However, odds makers have put his total for props bets at 199.5 yards passing.
The Jets face the Baltimore Ravens. Baltimore usually has one of the league's best defenses, but this season is average at No. 13 against the pass.
The 199.5 passing yards for Smith has the OVER at -120 and the UNDER at the same -120.
The Steelers have all the offensive weapons any quarterback would need to be successful. Therefore, Landry Jones on paper should do well, but Pittsburgh is facing New England.
The Pittsburgh defense has not played all that well this season and if Tom Brady can take a lead early in the game, the Steelers will be forced to pass more often than run.
If that is the case, the Patriots rush will be relentless against Jones.
Passing yards for Jones on sportsbooks have been set at 250.5 with the OVER and UNDER at -120.
Touchdown passes by Landry are set at 1.5 with the OVER and UNDER both sitting on -120.