Books Win Big with Middle Tennessee Upset Over Michigan State
March 19, 2016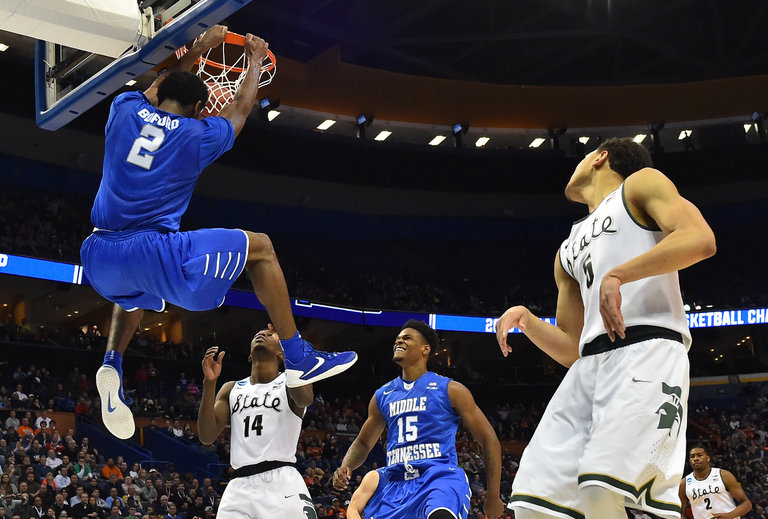 On Friday night, the Michigan State Spartans lost in a huge upset to Middle Tennessee in their first round game of the NCAA Tournament. The Spartans were not the only losers in that game or the tournament.
Multiple sportbooks had more money placed on the Spartans to win the NCAA Tournament than any of the other teams in the 64-team field, which means all that money will stay with the house.
Middle Tennessee, 16.5-point dog, knocked off Michigan State 90-81. Michigan State entered the game as the No. 2 seed, while the Blue Raiders were just a No. 15 seed. Middle Tennessee was 20 to 1 to win straight up.
Michigan State had been one of the co-favorites to win the tournament on multiple sportsbooks.
One online sportsbook took over 75 bets on the moneyline for Middle Tennessee with that money being cashed. However, the large number of bettors taking Michigan State both in this game and for the national title all is now part of the winnings for sportsbooks.
Michigan State was the most popular NCAA tournament bet to win the title for both amount of tickets and total money after the brackets had been released late Sunday.
The Spartans were carrying odds of 9 to 2 to win the national champions April 4, while Middle Tennessee was at 2,000 to 1 to win the national title on some sportsbooks.
For some sportsbooks, as much as 15% to 18% of the money bet on an NCAA winner was on Michigan State. Kansas has attracted a large amount of money from bettors, but overall Michigan State had taken in more leading up to Friday's opening game.
One book took just a handful of bets on Middle Tennessee and over 500 on Michigan State.
The upset by Middle Tennessee has continued the strong start by bookmakers to the tournament. Books were rolling in the dough on Friday thanks to other upsets besides just that of Middle Tennessee, including West Virginia losing to Stephen F. Austin and California being knocked off by Hawaii.
No wonder this is known as March Madness.