Can Any Team Beat the Alabama Defense?
November 21, 2017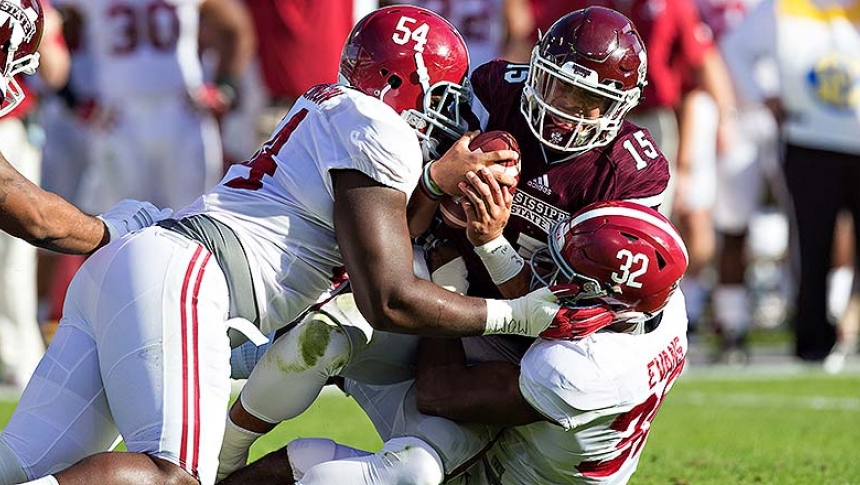 Alabama since preseason has been the odds makers' pick to win the national championship. The Crimson Tide has not faltered since the first game of the season.
However, as the number of teams narrows approaching the College Football Playoff, a few obstacles remain in Alabama's path to a perfect regular season and berth in the CFP. The biggest obstacle facing Alabama's opponents is the Crimson Tide's suffocating defense that is ranked first in the nation.
Since the start of the 2014 regular season, Alabama has lost just four games – two to Ole Miss, and one each to Clemson and Ohio State.
Three of the four losses were away games, which means playing Alabama away from Bryant-Denny Stadium is important if an opponent hopes to win.
The one biggest factor involved in beating Alabama's defense has been the play of the opposition's quarterbacks. In the four losses Alabama has suffered opposing quarterbacks were a combined 58% in pass completions with 10 touchdowns and only one pick by the Tide's defense.
Eleven teams remain in contention along with Alabama for the national championship according to odds makers. Of the 11, which have a quarterback capable of beating the Tide?
One of course is Oklahoma's Baker Mayfield. He is the favorite to win the Heisman Trophy but does not have the lightning like speed to hurt the Tide on ground. However, he is the nation's best in standing in the pocket and firing to receivers and can scramble for yardage when he needs to, to keep the opposition honest.
One other quarterback, J.T. Barrett for Ohio State has the ability to out run the Tide's defense and hit targets when scrambling. However, he tends to turn the ball over more often than Mayfield does, but is a running threat the Tide might have to deal with.
However, the Tide might not even meet either of the two teams as both must first finish the regular season and might not reach the CFP.
Alabama as well must first beat Auburn this weekend in the Iron Bowl. The Tide opened as 4.5-point chalk on the road, but nothing is certain when these two teams meet.
Update 2017-2018 College Football National Championship Odds
Alabama      EVEN
Oklahoma   +475
Ohio State  +700
Clemson     +900
Auburn       +900