Can New England Start Season 4-0, Pats Back on Top of Super Bowl Futures
September 15, 2016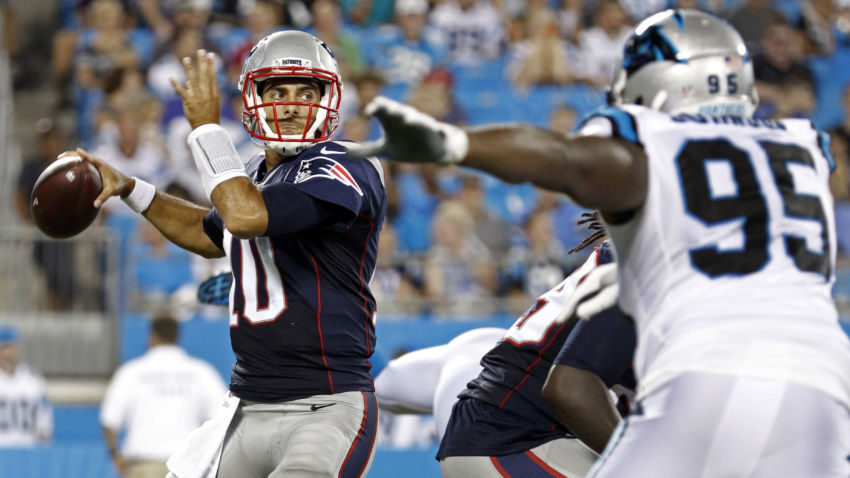 Most NFL bettors, odds makers and pundits thought the New England Patriots would lose their opening game of the season versus the Arizona Cardinals.
Now everyone is wondering how the Patriots will do for the remaining three games Tom Brady sits out and if they can start 4-0 without their star quarterback.
The opening game versus the Cardinals was likely the toughest challenge the Patriots will face with Jimmy Garoppolo under center. The Patriots will now play three straight at home against Miami, Houston and Buffalo.
One online sportsbook has released odds as to whether the Patriots will start the 2016 regular season 4-0. The No is the outcome that is most likely according to the sportsbooks with -250 odds, while the Yes on a perfect 4-0 start is sitting at +170.
Beginning the season at 2-0 should not be that difficult of a task for New England, as the Pats have won 16 of their past 20 games at home versus Miami.
They have hosted Houston on three occasions winning straight up and against the spread, each of the three games with the most recent meeting between the two played in New England back in 2013.
New England has owned Buffalo as well going 14-1 over its past 15 games at home versus the Bills.
Last season, the Bills, Texans and Dolphins were 10-14 on the road and Miami and Buffalo both opened their seasons last week with a road loss.
Another interesting trend is New England will host Houston next week for Thursday Night Football and has won 3 straight Thursday night games.
Looking at the performance in Week 1 of Garoppolo, historic trends and recent records, the +170 posted for a 4-0 start for the Patriots, looks to be a steal.
By the way, with the Patriots defeating the Cardinals in Week 1 of the regular season, odds makers and online sportsbooks have moved the New England back to the top as the Super Bowl LI favorite.
New England is +650 on the futures board and leapfrogged the Green Bay Packers who last week sat at +600 but slid to +700 after having a tough opening game win against Jacksonville.
Pittsburgh saw its odd shrink following its manhandling of the Washington Redskins Monday night. The Steelers starting the season were +1000 to lift the Vince Lombardi Trophy, but are now down to +750.
However, the team that saw its odds shrink the most was Denver. The Broncos moved up the board to +1400 from +2000 following their win at home last Thursday over Carolina.