Carson Wentz Moves Up NFL MVP Futures Board
October 26, 2017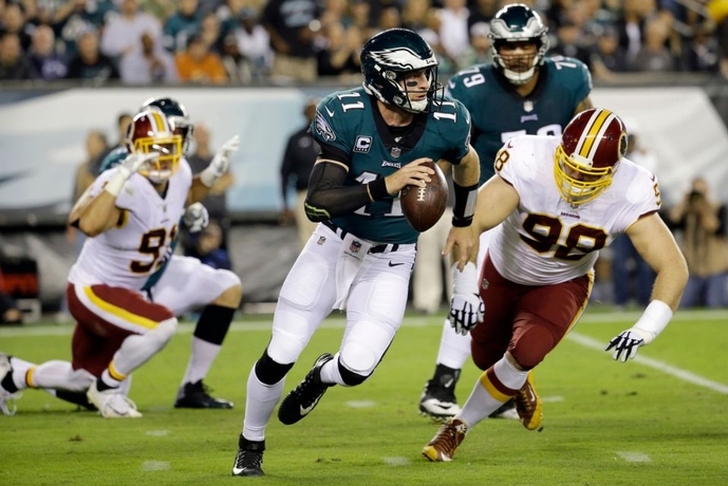 When the 2017 NFL regular season began last month expectations in Philadelphia were high for the Eagles second year quarterback Carson Wentz, but likely not as high as they are now.
The Eagles signal caller played inconsistently during his rookie season and most thought he would show big improvement, but few expected him to develop into one of the league's most effective quarterbacks, but he has.
After the season's first seven weeks of play, Wentz is in the top five for the league in passing yards, yards per attempt, touchdown passes and passer rating.
His play on Monday this week against NFC East rival Washington was a good example of how well he has played through seven weeks.
Wentz completed 17 of his 25 passes including 4 for touchdowns. He threw just one interception and added 63 yards on the ground to his 268 yard through the air.
During the fourth quarter, when his protection was collapsing around him, he escaped the Redskins oncoming rush and ran for a gain of 17 yards, which helped the Eagles to victory and move the NFC East leaders to 6-1.
Philadelphia has the NFC's best overall record and things are looking bright in Philly not just for the team but for Wentz as a leader and possible NFL MVP.
During the offseason, Wentz was +10000 to win the NFL MVP award, but after his strong play each week this season his odds have been whittled down to just +300 and he trails only New England quarterback Tom Brady on the NFL MVP futures board.
Wentz will not have it easy going forward. He and his Eagles teammates must play Dallas twice as well as road games against Seattle and the Los Angeles Rams.
Add to that the fact; the Eagles lost Jason Peters their starting left tackle during Monday's win. Peters will miss the remainder of the season and was Wentz's protection on his blind side.
Only 7 of 16 regular season games have been played thus far, but Wentz has moved to the top in the NFC on an individual basis and should remain one of the league's top candidates for the MVP if he continues his strong play.
Brady is currently leading at +200, followed by Wentz at +300 and rounding out the top five on the board are Kansas City quarterback Alex Smith at +500, Seattle signal caller Russell Wilson at +700, and Saints veteran QB Drew Brees at +1600.